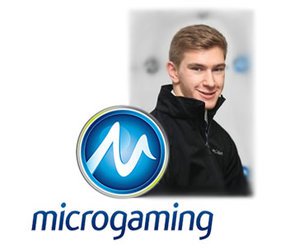 Microgaming is in its third year of sponsoring and recruiting people with great talent for their Ambassador Program which has mutual benefits for both parties.
The program started in 2013 with swimmer Laura Kinley and Keith Gerrard who is an all around track and field and cross country athlete. These two were chosen for their great reputations, ability, and knowledge in order to further their own careers and experience as well as spreading the word about Microgaming.
2015 sees Joseph Ricciardi, a young but established triathlete, added to the ranks of the program and gaining notoriety and skill through now being able to compete at more visible international meets. The ability to now participate and better himself through practice around the globe enables him to add to his list of accomplishments such as placing 10th at the London Virgin Active Triathlon against world class athletes.
Starting early in his sporting career, Joseph set a Junior record at the Manx Tri Club when he won the race just months after discovering his passion for his sport. Last year he competed in and completed seven triathlons, gaining notoriety by finishing second in his age group, sixth overall, and posting the fastest bike split in the entire event.
From here, Ricciardi has his sights set on turning professional and always adding bigger events to his competition resume. "I'm absolutely thrilled that Microgaming has named me an ambassador for the company. The support they are providing will enable me to travel to various competitions off-island and increase my level of experience internationally," he said.
"We are delighted to welcome Joseph to the Microgaming family. He is a gifted young athlete and we know he has the talent and determination to shine on the international stage. As with all our ambassadors, we'll follow Joseph's career closely and we wish him the best of luck with his busy year ahead," said Microgaming's PlayItForward chair, Claire Coleman.