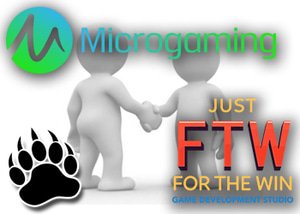 Microgaming's Quickfire platform has recently signed a deal with among gaming Studio called Just for the Win. The deal consists of Just for the Wins gaming platform being added to the already impressive Quickfire platform. This will see the increase of Microgaming range to over 400 gaming brands and is sure to provide all who are part of any QuickFire or Microgaming casinos a much bigger gaming opportunity with various new titles being added.
The deal will go into effect early next year and while for some, Just for the Win may be considered a new or unknown developer, they, in fact, have a team in place with over 40 years of online experience among them. The deal is expected to be highly lucrative to both Microgaming and Just for the Win as the game selection has not yet been featured at any online casinos. It means that those games released with be new to most players and expected to provide a new and exciting gaming opportunity that consists of various game types, themes, and of course more chances to win big. With Microgaming's reputation on the line, players can be sure to expect a professional gaming selection that offers all the latest and greatest slots that people have come to love when playing Microgaming slots.
Over the last year, Microgaming has already managed to impress with their range of video slot releases among many other online casino features such as the inclusion of live dealer and table games. The developer is known as an original developer of online games and has managed to put together some outstanding deals as they grow and develop their gaming library. This has seen Microgaming assist in the development of other gaming development companies and in doing so complement the portfolio they offer but also in providing a better online experience for all those who play with Microgaming powered casinos.
There has not been much other information released about the deal and it is still unclear exactly what type of games we can expect in terms of themes, bonus features, and whether or not the games will be mobile compatible. However, as mentioned, Microgaming will ensure their name remains among the best and that all reviews based on the games are expected to be positive. With the details and experience mentioned from Just for the Fun, casino enthusiasts have many reasons to be excited about the range of games that will be available.