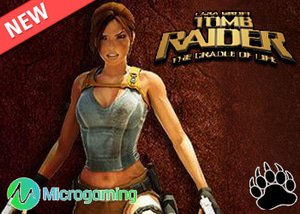 Get ready for a brand-new online video slot from Microgaming where you will once again be able to follow the thrilling adventures of Lara Croft.
2019 is already turning into an exciting year when you look at all the upcoming slot announcements. Microgaming has recently announced that they will celebrate their 15-year partnership with Square Enix by developing the third installment of Lara Croft. Whether you consider yourself a fan on the original video slot or you are embarking on a new adventure with the third installment, there's no denying that Lara Croft video slots are nothing short of spectacular.
The Original Tomb Raider
The original Tomb Raider slot was initially released in 2004 and was considered the first licensed branded online slot in the online gaming industry. It offered a 5x3 reel structure with 15 pay lines and gave players the opportunity to win free spins and multipliers while boasting with a 96.56% return to player ratio. What started out as a popular computer game quickly transformed into one of the most popular online slots in the world thanks to the partnership between Microgaming and Square Enix.
Tomb Raider: Secret of the Sword
Four years after the original Tomb Raider slot was released, Microgaming decided to surprise slot enthusiasts around the world by releasing Tomb Raider: Secret of the Sword. The sequel once again offered a 5x3 reel structure but this time received 30 pay lines as opposed to 15 pay lines. It also provided improved graphics, better sound effects, and a plethora of bonus features, including sticky wilds, multipliers, a Super Mode feature, a Global Adventure Bonus feature, and free spins with Rolling Reels along with a 95.23% return to player ratio.
Third Lara Croft Slot
The latest slot release from Microgaming casino software and Square Enix will not only celebrate the 15-year partnership between the two software developers but will also pay tribute to the 2018 blockbuster movie that featured Alicia Vikander playing the role of Lara Croft.
The 2018 Tomb Raider movie follows the disappearance of Lara's father, while Lara works as a bike courier. She eventually inherits her father's estate where she discovers a secret chamber in Croft Manor. Within the chamber, she finds a video message from her father detailing his research into a mythical queen who has the power over both life and death. Although her father urges her to destroy all research, she ignores his requests and investigates further, making her way to Hong Kong where the true adventure begins.
Although Microgaming hasn't released any details surrounding the slot structure, storyline, or bonus features, we are quite certain that the latest Lara Croft slot will be based on the story portrayed in the movie. Unfortunately, we will have to wait until ICE 2019 to see the brand-new action-packed adventure in the third Lara Croft online slot. However, if it's anything like the first two installments while following the thrilling adventures of Alicia Vikander in the 2018 Tomb Raider movie, we are in for quite a treat.
Where To Play The New Lara Croft Slot
Even though we are still unsure on the slot title or the release date of the new Lara Croft slot, we can tell you where to play the game once it becomes available. The new Lara Croft slot will be available at all Microgaming casinos and should feature the new slot in the month of February. We suggest that you register an account with Roxy Palace Casino where the new Lara Croft slot will make its debut. You'll have more than enough time to get acquainted with the software and its games before you venture into an action-packed reel-spinning adventure with Lara Croft.