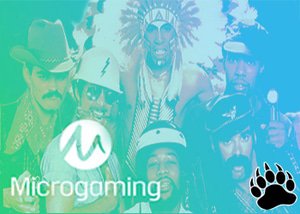 Microgaming to develop new Village People slot through a licensing deal with ITV Studios Global Entertainment.
In the latest news from the professional studios of Microgaming, the world-renowned software developer has recently finalized an exclusive licensing deal with UK's largest production company, ITV Studios Global Entertainment. The conclusion of this agreement is a sensational new online video slot based on the Village People, a legendary American disco group that is best known for their suggestive lyrics, catchy tunes, and on-stage costumes.
The new Village People slot is set to be released in early 2019 and will feature most of the popular hits by the Village People, including Macho Man, Go West, and YMCA. Each of these songs created a revolution worldwide in both dance and disco genres, earning the group the well-deserved title 'Kings of Disco'.
Players To Experience a Nostalgic Journey
Fans of the American disco group can expect a highly nostalgic journey from Microgaming online slot software that will even feature all the memorable characters of the group, including Construction Worker, Policeman, Military Man, Leatherman, Indian Chief, and Cowboy. Each of these characters will assist players on their journey back to the disco madness of the 1970's while playing for a chance to accumulate incredible cash prizes and unlock sensational rewards.
The brand-new Village People video slot will join Microgaming's world-renowned portfolio of branded online slot titles. The new slot title will be released across all platforms, including the developer's UK-based platforms, and will be launched exclusively at Microgaming casinos on both desktop and mobile devices to ensure everyone can enjoy the new slot in 2019.
Comments on the new Village People slot release
Andrew Clucas, the COO of Microgaming, stated that the Village People is a remarkable brand that had a massive impact on the world's pop culture thanks to a wide range of songs that remain in vogue ever since the 1970's. Andrew Clucas also added that Microgaming is extremely proud to create and develop a new slot that will feature the members of the band and their biggest hits for the very first time. He also mentioned that the new Village People slot will add more thrill and excitement to the company's extensive library of branded slot titles which will further cement its position as the world's leading iGaming developer.
Steve Green, a spokesperson for ITV Global Studios Entertainment, added that an iconic brand such as the Village People will undoubtedly provide a great amount of fun and nostalgia to a themed online video slot. Green also stated that there's no better software developer in the world to bring the video slot to life than the company that managed to launch the first online casino and he is extremely eager to see what Microgaming will create by early next year.
Where to play the new Village People slot in 2019
Although the new Village People slot will only be released in early 2019, you can already register with a wide range of Microgaming-powered online casinos where the game will be released. Recommended brands such as Jackpot City Casino features a 4-tier welcome bonus, exceptional customer support, and an arsenal of Microgaming games to keep you entertained while you patiently wait for the new Village People slot to arrive.