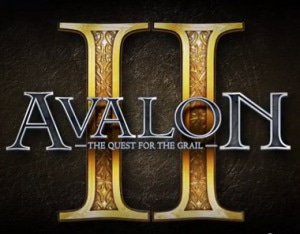 An exciting announcement has hit the online gaming industry this week in the form of a new online video slot game.
Microgaming Systems has outdone their previous work by releasing a game that will exceed all expectations. In February 2014 the online gaming community will never be the same with the launch of Avalon 2: The Quest for the Grail! Thus far a teaser trailer has been released by Microgaming to tantalize video slot fans. The game features design elements that are the first of its kind in online gaming. With the release of Avalon 2 Microgaming has firmly established itself as a leader in game development.
Avalon 2 is a sequel to the original 2006 game released by Microgaming. The sequel features the standard eight bonus rounds, five reels, and the 243 Ways-to-Win system. The game promises to exceed all player expectations through interactivity, storyline, design, and technology. The game will provide players with a fully interactive environment that follows the storyline of the Arthurian myth of the Round Table in the quest for the Holy Grail. The game design focuses on contemporary visuals that are similar to fantasy fiction films. The characters and visuals are depicted with astounding realism through motion capture technology.
The new game has four main characters that flesh out the epic tale of knighthood and honorable quests. Players can choose to embark on a quest as one of the following lead characters: King Arthur, Merlin, Guinevere, Morgan, or the sinister villain The Black Knight. Choose your character wisely because certain storylines have the potential to last longer than others. Players will be fully engrossed in the quest while playing this game because Microgaming has designed a mythical world full of 3D animation. Players will be immersed in a fantastical world full of myth and adventure in search of the Grail. The object of the game is to achieve three or more Grail chalice symbols on the reels. This will unlock a map of Camelot and bonus rounds. Players can win up to eight bonus rounds by succeeding at the different challenges during the quest to the finale. The ultimate prize is won at the final bonus round when the player reaches The Isle of Avalon.
Avalon 2: The Quest for The Grail will be a one of a kind online video slot experience! To begin your mythical adventure to the Isle of Avalon visit Jackpot City Casino and start playing!