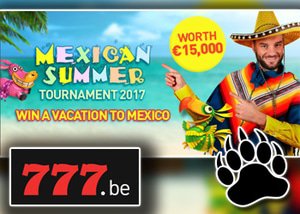 Mexico is known for its all year round warm weather and this year Casino 777 is sending a lucky winner to one of the most popular summer vacation hotspots to join thousands as they flock to the white sandy beaches.
Casino 777 just announced its biggest tournament yet, and everyone is invited to partake in the exciting Mexican Summer Tournament. Cash prizes worth thousands can be won, and the top prize consists of a Mexican vacation worth $15,000 coins well worth yelling Arriba, Arriba out loud.
The Mexican Summer Tournament is an extra special three-part tournament starting on the 4th of August 2017 where the biggest prizes are up for grabs, and the tournament offers three pre-rounds allowing the top twenty-five winners per round to take home excellent cash prizes.
Pre-round participants qualifying in the 25th up to 6th places win $15, 5th place awards $50, the player in 4th place gets $75, and by achieving 3rd place, a prize worth $100 is won. The runner up receives a cash prize worth $200 and the pre-round winner $300.
Mexican Summer Tournament Pre-Round Schedule
Casino 777 members can partake in three pre-round sessions, while the three 1st place winners of each pre-round will battle their way to a jackpot prize worth $15,000 towards a vacation in sunny Mexico.
The first Taco round is scheduled to start at 12:00 on Friday, the 4th of August and will last until 23:59 on Sunday the 6th of August 2017. Tournament slots for the Taco round include Twin Spin, Las Cucas Locas, and Spiñata Grande.
The second Sombrero round starts on Monday the 7th of August at 12:00 and continues until 23:59 on Wednesday the 9th of August 2017. Tournament slots during the Sombrero round include Beautiful Bones, Gonzo's Quest and Chilli Gold.
The third Tequila round starts at 12:00 on Thursday the 10th of August and will continue until Sunday the 13th of August, 23:59. Slots part of the Tequila round includes Book Of Aztec, Spins or Reels and Chilli Gold 2.
Mexican Summer Tournament Final Chilli Jackpot Round
Casino 777's final chilli jackpot round is scheduled to take place on Monday the 14th of August and will commence at 12:00 and the final round ends at 23:59 on Thursday the 17th of August 2017. Only the three top players of the three pre-round tournaments will participate for the main prize in the jackpot round. The final spinning round towards a Mexican holiday worth $15,000 is by private invitation only.
Exciting Casino 777 News
Casino 777 has just launched its first Emoiji Slot created by Mr. Slotty, and everyone is invited to enjoy its highly entertaining and astounding bonus features, too good to miss out on.
Sports: 777.be, are delighted to announce that the French teams are back after their summer-break and the first Ligue 1 game of the season is this weekend when the game between Toulose and Monaco takes place. On Saturday and Sunday, it's time to enjoy the clashes between Nice vs. Etienne and Nantes vs. Lille are bound to keep all football fans on the edge of their seats. Online players are also reminded that the spectacular Women's Euro Exact Score promotion are entering its last days and participants can still register to place wagers on the Women's Euro Game Exact Scores.