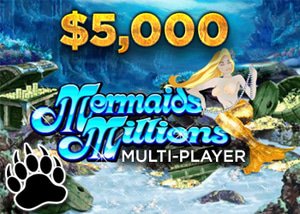 For 3 weeks during the month of January the premium gaming developer Microgaming are running a network wide promotion throughout all their casinos on their recently launched multi-player game called the Mermaids Millions Cash Drop.
The 5,000 Euro or currency cash equivalent, is available to all participating Quickfire and Microgaming operators on the Multi-player network.
Exciting Multiplayer Game With Up To 100 Prizes
The Mermaid Millions Cash Drop promotion offers up to 100 prizes each of 50 Euros/£/$/CAD$, and players can qualify for this timely promotion via their gameplay. For each 10 Euro/£/$/CAD $ that they wager on the multiplayer game, the player receives a raffle ticket into that particular weeks draw.
There are a total of four draws and each one awards 25 cash prizes of 50 Euros. There is one for every week of play, and there is also a final bonus round for all players who are fully qualified in all of the previous three draws, and this will take place on Thursday 28, 2016.
In order to participate in the lucky draw, players have to log in to their desktop platform for example the Royal Vegas online casino. If they are a player using the mobile casino, they can log in at the desktop casino by using their log-in particulars. There they can click on the Big Cash Drop special promotional link.
Once the promotion has been accessed, they then make their minimum deposit of 10 euros or currency equivalent, and are ready to play the multi-player Mermaids slots game. Each player will receive 1 raffle ticket for that week's draw.
There are a total of three weekly draws and these start from January 14, and each draw will consist of 25 different winners. Players that qualify for those first 3 draws will automatically be entered into the fourth draw. This will take place on January 28, 2016.
Mermaids Millions Cash Drop is an exciting Multi-player game and is a community slots, played in a virtual room. The screen displays a large set of reels where the player's gameplay takes place, and the other contestants' screens are visible on 5 smaller reels, so each can see how the other is doing. Players have the ability to chat with one another, should they so wish.