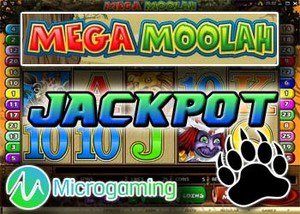 Progressive online slot Mega Moolah from renowned software provider Microgaming has been struck again, providing an €8 million pay day!
This €8 million mobile win on the Microgaming Mega Moolah Jackpot is recorded as the largest mobile payout ever. Theoretically, it's a new Guinness World Record. The historic moment was triggered on Tuesday 25 April 2017 by a Tipico player, which is just weeks after a player triggered a whopping €6,681,487 jackpot on 14 March. The fact that it also happened on mobile clearly indicates the increasing popularity of mobile gaming, which luckily both the developers and operators have been toiling away at for the past years.
This jackpot makes for the biggest online mobile jackpot prize ever to be won, even overriding the €7.9 million amount that was won in August of 2016. As with all wins on Microgaming's progressive jackpot network, the winner will receive the prize as a lump sum and not in annuities.
Marlon van der Goes, Tipico Chief Commercial Officer, comments: "We are delighted that one of our players won this jackpot with a stake of EUR 6.25, which is the biggest win in our online casino history, and the biggest mobile jackpot payout ever! The
Mega Moolah slot
games are very popular and this jackpot win is a great success story for the Tipico casino offer."
David Reynolds, Games Publisher at Microgaming, adds: "It's incredible to think in just over a month the mega jackpot climbed from 4.3 million (as at 21 March) to 8 million (as at 25 April). To see our own record for the largest ever mobile jackpot payout break is fantastic - we'd like to congratulate the Tipico player on their life-changing win."
To date, Microgaming's progressive jackpot network, the biggest in the industry, has paid out over €716 million.
All about Mega Moolah
Mega Moolah is Microgaming's most prominent and highest paying progressive jackpot transforming countless punters into multi-millionaires over the past ten years. The progressive Mega Moolah Jackpot game takes on a distinctive form to the base game slot as it comes in the appearance of a wheel. Once you enter the wheel you will picture four different coloured segments with each segment corresponding to the special jackpots available on Mega Moolah. These are the Mini, Minor, Major and Mega.
The Mega Moolah slot features with a 5×3 reel slot with 25 pay lines and a maximum bet of 6.25 per spin. Indicating, you don't have to break the bank to boost your opportunities of activating the bonus jackpot wheel. The more money you wager on the spin, your chances of initiating the bonus jackpot wheel increases.
All About Microgaming
Microgaming is one of the most notorious names in the online betting industry. The entity launched in 1994 and has been voted best casino software provider multiple times. Microgaming casinos are the ideal choice for Canadian players who are seeking for something more. With more than 600 branded games available, as well as download and instant play options for players in Canada, it is easy to see why more and more people are choosing to play at websites that use this platform. Their focus on quality, safety, and amazing bonuses all make this the software provider that everyone wants to use. Microgaming has been honoured with various gambling awards over the years, including Player's Choice awards, awards for innovation, mobile product and more. Click here to enjoying a large selection of free Microgaming slots and indulge in a game of chance at one of the best online casino's.