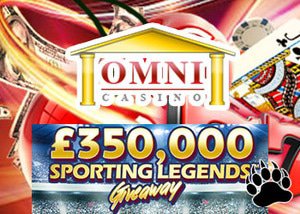 Join Omni Casino and participate in the Sporting Legends Mega Cash Giveaway promotion to win your share of $350,000 in guaranteed prizes over the next 4 weeks.
The Sporting Legends Cash Giveaway promotion is essentially an extended promotion offered by Omni Casino. The promotion officially started on 18 June 2018 and will be available for a month from the starting date which is very similar to the Mega Cash Giveaway promotions that were previously offered at Omni Casino. If you enjoyed participating in multi-draw promotions at Omni Casino in the past, we're confident that you'll fall in love with the latest offering at Omni Casino as well.
Between 18 June 2018 and 15 July 2018, Omni Casino will host the sensational Sporting Legends Cash Giveaway promotion with a guaranteed prize pool of $350,000. The promotion offers more than 11,000 different cash prizes and lucky casino players who manage to earn themselves ticket entries while enjoying an assortment of selected slots will stand a chance to win prizes that range between $18 and $9,000 in cold-hard cash during weekly draws. Let's take an in-depth look at the Mega Cash Giveaway promotion offered at Omni Casino.
How to Join The Mega Cash Giveaway Promotion
For those who have participated in the Mega Cash Giveaway promotion at Omni Casino over the past few years will feel right at home with the latest offering from this top-rated online casino. For those that are entering for the first time will quickly notice that the Sporting Legends Cash Giveaway promotion is a simplistic prize draw that takes place over the course of 4 weeks with a brand-new Double Ticket feature to make the promotion even more exciting in 2018.
Your participation into the Mega Cash Giveaway promotion is both automatic and free and only requires that you play for real money on any of the selected video slots fromPlaytech. You won't be required to opt in or pay an entrance fee to participate in this stunning promotion either. You are welcome to join the promotion at any time, but we highly recommend joining as early as possible to ensure your chances of winning is significantly higher.
Mega Cash Giveaway Game Selection
Omni Casino utilises the world-class software from Playtech, providing a wide range of top-quality casino slots with remarkable graphics and animations to ensure you have a memorable gaming experience with every spin. The selected Playtech slots for the Mega Cash Giveaway promotion include Frankie Dettori Sporting Legends, Heart of the Frontier, Top Trumps Football Stars Sporting Legends, Batman vs Superman: Dawn of Justice, Ronnie O'Sullivan Sporting Legends, Gladiator Road to Rome, Gem Heat, and Epic Ape. For every $18 you bet cumulatively on the above-mentioned slots you will receive 1 ticket entry into the prize draw for a particular week.
Double Ticket Entries
The new Double Ticket feature is something that you don't want to avoid during this promotion. You can earn Double Ticket entries when you successfully gained entrance into the prize draws for the first 3 weeks. During the fourth and final week you will start earning Double Tickets for all gameplay on the best online slots . What's even more impressive is that there are no limits to the number of tickets you can accumulate during the promotion which means you stand a chance to win an unlimited number of awesome cash prizes as well.