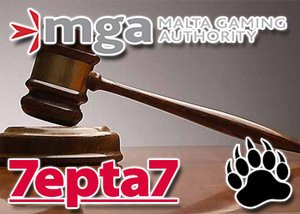 The Malta Gaming Authority (MGA) is cracking down on gaming sites and they have already suspended 7epta7 Limited's license.
When it comes to online gambling, licensing is important and all players should ensure that they are using a site that is licensed by a proactive licensing authority such as the MGA. The Malta Gaming Authority is what stands between players and operators and they embody a clear understanding of how gaming practice and legislation works. They are a single regulatory body that are responsible for all governing and gaming activities in Malta. They provide strict rules and laws for operators to abide by and this ensures player protection. One thing that this governing body won't hesitate to do is revoke a gaming license from an operator that hasn't adhered to their enforced regulations.
On their website on MGA announced that they have suspended 7epat7 Limited's remote gaming license and this came into effect on the 7th of March.
"The Malta Gaming Authority (hereinafter the 'Authority') is hereby notifying that 7epta7 Limited, remote gaming license MGA/CL2/921/2013, has been suspended as of 7th March, 2016."
The operator has been ordered to suspend all their operations indefinitely. This includes prohibiting new registrations, and suspending all transactions associated with the website including deposits and withdrawals.
The MGA has also order the 7epat7 Limited to submit requested documentation so that the ongoing investigation into their activities can continue.
The MGA also stated that all players who have money owed to them must contact the licensing body for payment.
Detailed information was not provided as the investigation is ongoing. If you visit the website you will notice that it doesn't say anything about the license being suspended, all it says is, "You are invited to our great Re-Opening Party in a few days."
With acknowledgement from the MGA many players would be unaware of the issues with this site and this is another reason why we always recommend that you play at a site that is governed by a proactive licensing authority such as the Malta Gaming Authority, Kahnawake, Antigua, or the UK Gambling Association. These are legitimate governing bodies who ensure the safety of players. We recommend Jackpot City Casino for all our Canadian players as this site is trustworthy and licensed and regulated by the Malta Gaming Authority.