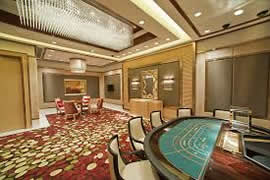 VIP rooms can be big business for busy casinos in major tourist and casino-heavy destinations which is part of the reason for their inclusion in talks for Macau.
Confirmation has come down from the top executive level in Macau that, among other talks that will happen around the license renewal of the first six major casino operators, treatment and policies regarding VIP rooms will be brought to the table. With the increased draw that can be generated not only through those vying for placement in one of these rooms but also with the levels of celebrity that these areas typically bring but also the people who attend hoping for a brush with a big name. Although the licenses don't expire until 2020, next year will mark the beginning of the discussions and planning to make the most of what could come out of renewing.
Along with the topic of VIP rooms, Fernando Chui Sai On, the Chief Executive of Macau, has stated that the prevention of problem gambling, social responsibilities of operators, the structure for promotion of employees at gambling establishments, the scale of development in the gaming world, and the balance of gambling to non-gambling portions of their businesses.
VIP hosts in the casino setting, referred to as junket operators, seem to have a habit in the Macau setting for getting into yearly troubles of some sort or another. This segment of the overall casino operation has been drawing more attention and is watched more carefully all the time as a result. A recent prime example involved the wife of VIP gambling promoter Neptune Group's owner was charged in Hong Kong with money laundering. In further effort to crush the corruption that has been growing in that industry, over 20 junket operators have been pressured to reveal information about what interaction they may have had with government officials by Chinese authorities. Fernando Chui Sai On declined comment on whether alterations would be made to the interactions with these companies.
As scandals mount, some businesses, like Melco Crown Entertainment, have been quick to distance themselves from the troubled junket operators. In a two year span between 2011 and 2013, Melco's income from junket operators to 49.8% from 61%. Interestingly though, decreasing the interaction between the two operations has resulted in an increase of junket commissions from Melco Crown Entertainment of 30% in 2013 over those paid in 2012. This may be that those companies who keep their practices clean are in higher demand and are asking for or being given more of a cut. The complete reasoning for the entire VIP market being re-examined will come forth as talks advance in the next few years, helping to clear the air of rumours and set a definite future fate for this subset of the Macau casino industry.