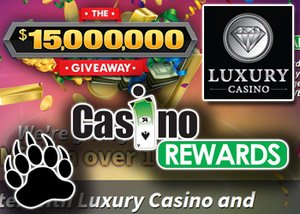 If major promotions and breaking records are things that interest you, then you'll love Luxury Casino's $15 Million promotion .
Excess is the name of the game when it comes to gambling, and nobody has a better hold on this theme than Luxury Casino. Everything about this online casino revolves around doing it big and giving players chances to come up with major winnings at high stakes with huge promotions. Now you can get a piece of $15 million with their newest event.
Get Your Share of $15 Million
A total of up to $15 million is going to be given away thanks to a new promotion that will last for ten weeks starting on September 1, 2015. The way this promotion works is that Luxury Casino will match a percentage of every single deposit into a huge prize pool for a progressive drawing. Every $50 that you deposit will get you a ticket into that week's drawing, and you can deposit as much as you want for as many tickets to these drawings as you can handle. A total of as much as $15 million will be given away to players with an average prize pool of $1.5 million each week for this event.
Welcome Bonus
To sweeten the pot even bigger, you can take advantage of Luxury Casino's welcome bonus if you're a new players. You'll get up to $1,000 on your first five deposits at this online casino. This is a good example of getting your bankroll beefed up as much as possible before taking on your favorite games, and it's also a good example of leveraging promotions to maximize your chances of winning overall.
About Luxury Casino
Everything at Luxury Casino is designed to give players a real luxury experience. They have bigger promotions than most with higher stakes than most, and they're all about some great perks for high rollers. With that having been said, they accept players at all different stakes, and you don't have to break the bank to get in on the action. With tickets being awarded for just $50 in deposits, you can be a baller on a budget with this giveaway.