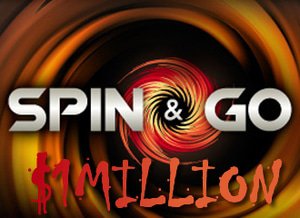 The sit and go world was shaken up recently when a lucky Russian player scored a $1 million payout on the special Spin & Go format.
When the Amaya Gaming Group took over PokerStars in 2014, one of the changes they made was the addition of the Spin & Go format. While this is a three-handed game that plays like the normal hyper-turbos with a winner-takes-all format, the prize pool is randomly determined and can include a payout as high as $1 million for a special promotion that they have going on. A Russian player with the screen name 'SSS66666' won the first $1 million prize available in this format.
While the intent of the Spin & Go format was to bring in more recreational players, the drawback of the format is that it has an extremely high amount of variance and volatility. For professional players who are looking to get value from these games, it's extremely difficult to even know if you're a winning player without playing hundreds of thousands of them from a statistical standpoint. Along these lines, the extreme variance of this type of game really irritated more serious players who feel like they're having recreational players pulled away from the already tough traditional sit and go games. This is another policy that made the Amaya Gaming Group less popular with groups of serious poker players.
Despite all of this, the new format has been a huge success, and a part of that is the big $1 million promotion that SSS66666 was able to cash in on. PokerStars has been running this promotion based on the idea that you can win $1 million from a simple $5 buy-in event. For this promotion, the other two players in the three-player format also won a sizable payout for getting into the $1 million round, and these prizes were worth $100,000 apiece to 'geldduvel' and 'Nonko999.'
Overall, the Spin & Go format is another example of a policy by the Canada-based Amaya Gaming Group that is bringing in more recreational players and helping the overall poker ecosystem in the long run, and that's even if some more serious players fail to see that.