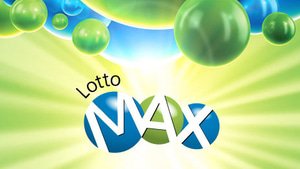 The Canadian LottoMAX draw for last week, April 25th 2014, didn't turned up a million dollar winner.
A player from Toronto Ontario was reported at winning a 'smaller' prize of over $300,000 in last week's draw...which may not be the millions but is absolutely better than nothing! Another player located closer to Trenton Ontario won $100,000 playing the Encore. These two lucky players will need to receive their prizes at Toronto's OLG office.
With no one scoring the estimated $32,000,000 last week, the winnings will now be carried over to next week's draw on May 2 2014. This now gives Canadian residents an opportunity to win $50,000,000 + 2x MAXMILLIONS which equal $1,000,000 each! Canadian residents have until 9pm Eastern Standard time on May 2nd to purchase a $5 ticket and opt to spend an extra $1 for the Encore.
The unofficial numbers for last week's draw are: 3-9-24-25-28-36-40, bonus-48 and encore-3275228. Keep a watchful eye out for next week's numbers to be posted right here. Your odds may be lower next week, as everyone gets pretty when hearing the jackpot is $50 Million, but luck may be on your side!