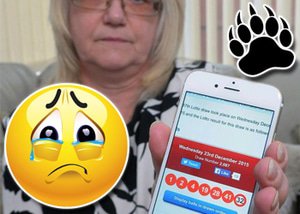 How many times do people get irritated having to do online transactions, it happens on a regular daily basis, but rarely creates such a profound impact on two people's lives as that of David and Edwina Nylan.
The couple based in the United Kingdom thought that they had won the Wednesday December 23, 2015 UK National Lottery, estimated at £35 million (CAD $72 million). Unfortunately theirs was to be a tale of lottery tragedy.
Most lottery players would consider lottery tragedy to be missing out on one or two of the numbers required to land a major life-changing windfall, and having to settle with one of the other lower jackpots shared with hundreds or even thousands of others with the very same numbers. Missing out on a couple of numbers, can be all the difference between collecting a prize of multi-millions, and a comparable paltry four figure amount. One wouldn't know whether to jump for joy or weep with sorrow, such would the contrasting emotions be.
A Gut Wrenching Story With No Goodwill Compensation
Grandmother of seven Edwina Nylan tried to buy a lottery ticket for her and husband of 36 years David using the UK Lottery's special mobile app, but their account indicated that they had insufficient funds. Needless to say this prompted this middle-aged grandmother Edwina, to top up their account before purchasing what could potentially be a life-changing ticket.
"We were told we had insufficient funds in our Lotto account so we topped it up before the draw time," said Edwina, using the "convenient" app advertised on TV by lottery organisers Camelot. "It was as if all our dreams had come true at once when we realized we had all six numbers, We imagined being able to treat our family and live an amazing lifestyle with new cars, houses and holidays but it was all over in a flash."
Her husband Dave was the one who realised he had selected all the winning numbers at random, and called his wife at work to say that they had won it. Neither of them could believe it and they were in total shock. Then Edwina realized that the couple had not received a confirmation email from Camelot as they normally do, even when receiving a win of £10, there was nothing.
A Camelot representative confirmed to Edwina that the numbers had been registered as theirs, however in a final twist, a computer glitch delayed the processing of the payment until after midnight, with the account showing insufficient funds at the time of the Lottery Draw. Had the ticket been purchased at a store, a lifetime of heartbreak and lottery tragedy, could have been averted, however that's little compensation indeed. Future players be warned.