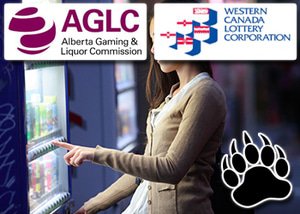 The Western Canada Lottery Corp. and the Alberta Gaming And Liquor Commission have just started a pilot test on instant ticket lottery ticket vending machines.
As well as casino goers being able to try their luck on the vast numbers of slot machines, there will now also be the availability for players to have a crack at a vending machine as well.
The installation of 20 lottery ticket vending machines got underway on Sept 21 and expects to be completed by Oct 9. These will be going into gaming entertainment centres and age-controlled casinos in Calgary and Edmonton, said the Alberta Gaming and Liquor Commission on Friday.
The purpose of this one year pilot project is to ascertain if Albertan gamblers will be attracted to this self-serve technology as yet another way to purchase their lottery tickets, said the commission in a news release.
AGLC's CEO and President Bill Robinson stated that their job was to ensure that Albertans have the best available options they can consider, when in the throes of disbursing their entertainment dollar.
AGLC Actively Looking To Improve Gaming Offerings
He went on to say that they were always looking for new ways to improve gaming offerings for the province, at the same time being mindful of their commitment to social responsibility and integrity.
Players who take up this new method of purchasing their lottery tickets from one of the new machines, will have to validate they are 18 years old or over, by scanning the bar code located on their driving licence.
Although the machines will be scanning the licence, there will be no information retained with regard to the purchaser. This will be purely for age verification purposes only, said the AGLC.
The AGLC say that the results of the pilot will be reviewed and then at that time they will make the decision whether there is a need to continue testing, or alternately instigate expansion of the instant ticket vending machine program.
No Major Problems Foreseen From Vending Machine Introduction
One of the gaming researchers on the project didn't anticipate any major problems as a result of introducing the new lottery ticket vending machines.
The Alberta Gambling Research Institute's research co-ordinator Robert Williams, stated that instant lottery tickets were already available at over 2500 lottery retailers throughout the province.
With the addition of these new instant lottery machines to those already in existing casinos and gaming entertainment centres with VLTs, there would not be any kind of major expansion of their availability. As well as that, he said that it was far less problematic as opposed to them making them available over the internet 24 hours a day.
Williams concluded by saying that the only real concern with the new lottery ticket vending machines was that the problem gamblers may possibly frequent gaming entertainment centres and casinos at a "significantly greater rate and this could exacerbate their problems to some extent."