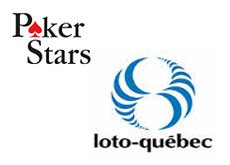 In Canada, the main government agencies for running online gambling games have been working for several years to regulate the different aspects of the industry.
Most of these efforts have been through building, in effect at least, their own operators and networks so that they are able to completely control most aspects of the operation. While this works out fine for most types of games, poker is a different story. The size and ecology of the player pool is extremely important, and size by itself can drastically change how much money is made on a scale that isn't linear.
This is an issue that Loto-Quebec has been running into while analyzing how to regulate online poker, and it has lead them to a situation where they are considering just licensing PokerStars as a start to getting a handle on things. Poker on the Internet is a place where people have a lot of incentive to play for unlicensed operators, and PokerStars is largely considered to be at the top of that list. As a result, instead of trying to reinvent the wheel and fight an uphill battle, it could make a lot of sense to just license the biggest name in the game much like has been done in other countries such as Italy.
What's more is that it's been done so many times at this point, with this particular site too, that they would be very likely to skip past a lot of the mistakes that have been made in the past. When country-specific games for PokerStars in the past were raked so heavily according to national law that it created a situation where literally no one could win in the long run, players organized a massive sit-in to protest, and the rake schedules were eventually changed.
For the 2014 fiscal year, Loto-Quebec was able to pull in about $42 million just from online gambling in Canada. This is a significent number that really shores up the government's levels of funds, and a large part of this came from the fact that there was a 125 percent increase in the number of Internet lottery tickets sold by the agency. If poker is brought into the fold, and if their other projects continue to be successful, they could see this number to continue to grow year by year.