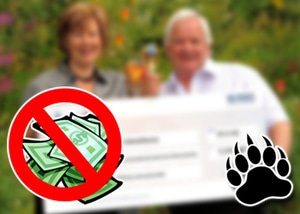 There's a great big storm brewing in the Windy City and it's nothing to do with the weather. Imagine coming up with all the winning numbers of the Illinois State Lottery and then finding out there's no one who can say when the check will be cut?
That's the situation that Danny Chasteen and his girlfriend Susan Rick find themselves in. Can one imagine going from the euphoric heights of having their lives changed in the blink of an eye by pulling in a $250,000 prize in the Illinois State Lottery, to the reality of instead of receiving a check, actually collecting an official I.O.U? How could this possibly be, how could this happen?
Unfortunately, it's yet another sign of Illinois' troubled finances and lack of agreement over their impending budget. Under the State law all lottery checks that have to be cut that are in excess of $25,000, have to be done by the State's comptroller.
Where the problem lies is the fact that the lawmakers are still haggling over the budget and are yet to reach agreement. Whilst this continues, the comptroller's hands are tied. The comptroller's office does not have any legal authority and is unable to release the funds, until the budget has first been agreed.
Players who win $600 or less are still able to collect their winnings from wherever they purchased their ticket. Also prizes of $25,000 or less can still be picked up at lottery claim centers across the State. The big winners have no such luck, they are just expected to wait in suspended animation.
After years of financial struggle and having to work 7 day weeks, Susan Rick finally thought things were on the upturn bigtime for her and her boyfriend. Let's face it $250,000, is a life changing sum of money, for anyone.
Said Susan, who lives in Oglesby. "For the first time, we were finally gonna get a break, and now the Illinois Lottery has kind of messed everything up."
Incredibly when questioned lottery officials could not comment on how many winners to date had not been paid and how many payments had been delayed, nor could they provide the total amount of payouts that are still collecting interest payments for the lottery, and as yet still unpaid to the winners.
The agency's website lists many press releases of winners since the start of the current fiscal year, these winners represent millions of dollars in prize money.
"The lottery is a state agency like many others, and we're obviously affected by the budget situation," Steve Rossi spokesman for the Illinois State Lottery said. "Since the legal authority is not there for the comptroller to disburse payments, those payments are delayed."