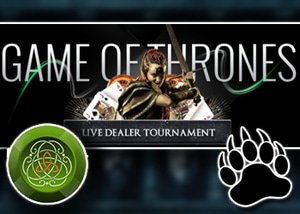 Celtic casino is hosting a live Game of Thrones Tournament this September and you won't want to miss out. The action takes place in the live roulette casino room with $24,000 in cash prizes.
September is another month for the Live Game of Thrones tournament over at Celtic Casino and here's everything that you needed to know. The live tournaments have been running since June 1st and as the name suggests, they all take place in live casino games. Players have the chance to win a share of the $24,000 cash prize fun and of course the chance to hone their table game skills.
If you think you have the skills and are ready to take on might opponents in the Live Game of Thrones tournaments, then make sure you're signed up for a real money account with Celtic Casino.
The Live Game of Thrones Tournament is now an annual event that has been designed to bring the strongest opponents of live casino gaming from all over the world together to battle it out for a place in the top 25 rankings. Each of these people gets a cash prize too.
The tournament kicks off in June every year and each month is dedicated to one specific live dealer game. There is a cash prize of $2,500 per month that is given to the top player and the rest of the 25 get the following. Second place $1,000, $200 for 3rd to 10th place, $100 for 11th to 15th place, $50 for 15th to 25th place. The cash prizes have no wagering requirements and players are free to withdraw them immediately. All the winners are announced on the Celtic Casino website and a permanent season post is also created.
The Live Game of Thrones Tournament schedule and all the games being played each month are listed below and you can find everything you need on the Game of Thrones 2017 tournament page.
June 1 - 30: Live Roulette
July 1 - 31: All Live Games
August 1 - 31: Live Blackjack
September 1 - 30: Live Roulette
Play Free Roulette Games
If you decide to participate you need to know how to play roulette and we highly recommend you check out our roulette guide and play some free roulette games to practice your strategy. As a participant in the live Game of Thrones tournament, you will receive daily leader board statuses so you know where you stand at the end of each day.
To earn tournament points you have to wager real money on the specific live dealer game for each month. Your total in wagers will then determine the amount of points you get. For every dollar wagered you get a point, so the more you play the more chances you have of hitting those top 25 leader board places.
As with all tournaments and casino promotions, Celtic casino has terms and conditions that players must adhere to. This includes having to make real money deposits. The full list of terms and conditions for the Live Game of Thrones tournament can be found on the Celtic Casino website.