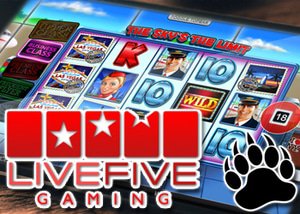 With the successful release of "The Sky's The Limit" mobile game with Sky Vegas, their Wolverhampton based developer, Live 5 Gaming, have now revealed plans to roll the game out to a wider audience and start promoting it to a broader range of channels and operators.
Their Very First Mobile Title - A Resounding Sky Vegas Success!
The Sky's The Limit is the very first mobile title from Live 5 Gaming, and was taken up by Sky Vegas and released in the second quarter of the year. This was accomplished in partnership with Core Gaming, and is being hailed as a major coup and success story.
Games product manager for Sky Betting and Gaming Casino Julian Beck claimed it has been a great performer for them. He stated the company's delight at how well Sky Bet's mobile casino players had reacted, and taken to this new and innovative game. As a result this prompted them to take action, and they recently launch the game on desktop as well as HTML5.
Roy Howell, Chairman of Live 5 Gaming was bullish and said that his company felt sure that site owners and players alike had a need for something new, and they set their focus on delivering such a game.
He went on to say that all that they had accomplished could not have been achieved without support from both Sky Vegas and the Core Vegas teams, especially in the light of them being inundated with other gaming developers, also trying to get their games on the Sky Vegas platform.
As a result of the successful SkyVegas roll-out, much interest has ensued which looks set to take the game to even greater heights. The game is now expected to be released to the Bingo sector from this month starting with Mecca Bingo, Gala Bingo and an ECM Systems launch.
Also in November the game will be rolled out for use in the UK Pub and coin machine markets, via agreement they have with Entnet Ltd. As for next month, December sees their launch on gaming machines for the licensed betting office sector, via their arrangement with SG Gaming who are a subsidiary of Scientific Games.
2016 undoubtedly promises to be an eventful year for this Wolverhampton company with the Midas Touch and their "The Sky's The Limit" game. Who could argue with such an inspired slot title that seems so like an amazing self-fulfilling prophesy?.