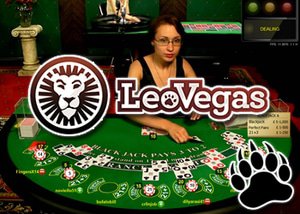 When it comes to entertaining casino players, innovation tends to be the name of the game and the brand new LeoVegas Live Casino is a brilliant example of this.
Tech-savvy millennials are looking for more and according to Daniel Sahl of the University of Nevada, Las Vegas (UNLV) Gaming Innovations, the gambling industry needs to abandon the isolated traditional ways of gambling if they wish to attract the "extraordinarily social" younger generation. This generation likes to engage in social conversations and social interactions with other people.
He went on to say that when millennials get together the group aspect becomes important and they don't want to engage in activities that pressure the group.
At the iGaming Super Show 2016 LeoVegas launched their new product called LeoVegas Chambre Separee. This is a LeoVegas live casino. This is a custom live casino environment and according to Karolina Pelc, LeoVegas's Head of Casino, the live casino team is comprised of experienced professionals that all come from the land based casino VIP industry. This allows LeoVegas the opportunity to create a unique live dealer experience and their goal is to become the best in the mobile market. The new LeoVegas live casino product features personalized promotions, a HD experience across all devices, a standalone live casino app, live stream roulette, and it's available in seven native languages.
LeoVegas is all about introducing new innovations and this new product focuses on bringing fun to the tables. They have introduced the concept of "Celebrity Blackjack" where players can gossip and gambling at the same time. According to Pelc, this is basically a blackjack game where you have two dealers dealing at the same time. They are specially selected dealers based on some social skills and there is also a screen on which the latest gossip from the world of sports, tech, and celebrities is displayed. While the dealers are dealing they are also discussing the latest news, essentially running through the headlines of the gossip papers. It is set to be a big hit with players as it will make the experience a lot more interactive and fun.
The LeoVegas live casino is a separate product for this mobile gaming company. It is a really quick, fast loading mobile site and the experience is seamless allowing players to move between slots, the sportsbook, and the live casino with easy.
Pelc said, "I think that variety is the spice of life, and the same as slots players like to have access to different kinds of content providers, the feedback we got from VIP players we met and live casino players was that they would want the same kinds of things so we actually have five different live casino providers integrated and we're looking to provide even more, so I think this is great because we can provide different kinds of features."
To learn more about this software provider and where you can enjoy all their games, be sure to read the LeoVegas review on Grizzy Gambling.