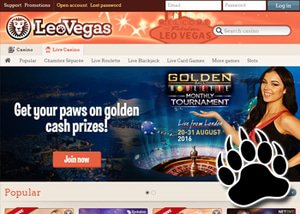 LeoVegas has been one of the most impressive online casinos for multiple years. In fact, they were the first to offer mobile gaming with well-known online slots and casino game developer, NetEnt. Once again the popular casino becomes more impressive and provides not just one, but 2 live casino launches in order to provide their members with the advantage of a larger game selection and a larger selection of live dealer games.
LeoVegas has recently added Authentic Gaming and the latest addition to the NetEnt casino game range, allowing players to enjoy their full range on mobile. Not only do these developers offer various advantages to their members, but it also gives users the ability to enjoy their game selection in more ways, including the LeoVegas app that's available for both Android and iOS devices
LeoVegas' Authentic Live Deal Casino Gaming
Authentic Gaming provides additional gaming opportunities with their new ultimate live casino experience software that offers more Roulette games from their studios in the Italian Alps. This includes 3 additional Roulette options, including St. Vincent Superieur Roulette, St. Vincent VIP Professional Roulette and the St. Vincent Live Stream Roulette variation. Each of these additional Roulette games will also add to the live mobile dealer gaming opportunities at the casino offered by LeoVegas. However, those who prefer live dealer games on mobile will also be able to access these games, meaning the full live dealer game experience has been upgraded at LeoVegas.
The Authentic Gaming Roulette variation is streamed from a land-based casino in Italy. Each of these provides different views and game features. While playing, you will see players at the actual casino placing bets of their own, which has no effect on your game. The Superieur Roulette game provides a birds-eye view of possibly the most original variation of Roulette. This French variation is popular among high-rollers, but with the betting options featured, all players are welcome. Live Roulette Stream is based on the European version of the game includes standard betting options. The VIP version offers the same gaming opportunity but provides additional betting options for those who are more advanced.
The additional live dealer features from NetEnt provide players with additional live dealer mobile option from their current range of games. The new feature was added to LeoVegas on the 18th of August 2016 and offers an exciting mobile variation of their games. Players have the ability to stream the live dealer game directly to their mobile device and choose between landscape and portrait views, as well as the usual options offered by the PC variation. The game includes all options and settings in a convenient menu that can be accessed at any time to change options as neededor desired.
NetEnt has been part of LeoVegas since the very beginning and formed part of their mobile gaming experience more than 4 years ago. Both LeoVegas and NetEnt has once again come together to feature the latest mobile addition. This has proven to be highly impressive and is sure to be yet another favorite among players at LeoVegas.You can read more about Leo Vegas by reading our review here.