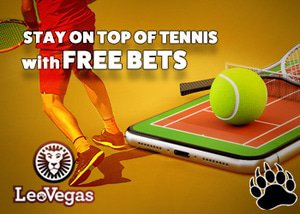 Stand a chance to claim up to $1,500 in free bets at LeoVegas Casino when you watch and bet on tennis during the month of November.
Every online casino offers a wide variety of promotions to ensure players keep coming back for more. However, LeoVegas Casino is one of a handful of online casinos that enjoy spicing things up by adding something extra to the equation and increasing the stakes. This phenomenal online casino has just released a brand-new tennis promotion, giving you the opportunity to claim more treats in the form of free bets while playing at LeoVegas Casino for the month of November.
Tennis Free Bets Promotion
Sports enthusiasts don't always receive the best treats in terms of bonuses and promotions except when they play at LeoVegas Casino . From 6 August 2018 to 18 November 2018, players will have the opportunity to claim up to $1,500 in free bets. Players simply need to watch their favourite tennis matches and place a bet to unlock their rewards. Every time you place 4 qualifying bets of $30 or more on tennis matches, you will be rewarded with a $20 free bet. You simply need to ensure that all 4 qualifying bets are made at odds of 1.50 of higher in order to qualify for your free bets.
Every week will provide a new opportunity to claim 5 additional free bets, totalling $100 in free bets when you place bets on Live tennis. Please keep in mind that all qualifying bets need to be made with a mobile device through the In-Play feature at 1.50 odds or higher. You will be pleased to know that all free bets can be used on any Live tennis market from both your mobile and tablet device. It's also worth mentioning that your minimum stake per wager needs to be $30 or more otherwise it won't be considered a qualifying bet.
Should you want to place a combination bet, please ensure that the total odds are at least 1.50 or higher to ensure your bets count towards the total. Every bet in your combination bet needs to be on tennis selections otherwise your bet will be disregarded. Every 4th qualifying bet that is settled will award you with a $20 free bet. Please remember that all qualifying bets are required to be placed on live tennis matches via mobile.
Should your qualifying bets not be made with real money, or your bets are not settled within the promotional period, it won't count towards the tennis free bets promotion. Every free bet is valued at $20 and you can claim a maximum of 5 free bets every week until the tennis free bets promotions come to an end on 18 November 2018 at 23:59pm. Please ensure you select the correct reward on the betting slip to receive your free bets before placing a bet. The free bets won't be withdrawable and need to be used in one full bet.
Enjoy Tennis Betting With LeoVegas Casino
Make your way to the court and participate in the sensational action by smashing out 5 free bet rewards every single week at LeoVegas Casino. If you haven't registered with LeoVegas Casino as of yet, you can create a casino account for free and make your first deposit. You can get no deposit free spins at LeoVegas Casino and enjoy a great welcome package of up to $1,600 in bonuses. This promotion is only available to new players and is subject to the casino's full terms and conditions.