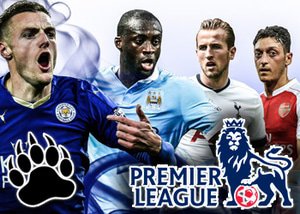 For those folks who avidly follow European soccer and the UK's Premier League, they will be well aware that this season has been the most unpredictable ever.
The Premiership or the Premier League was launched in 1993 and these days the top 4 clubs at the end of each season automatically qualify for the Champions League. This is the stage for soccer's European elite, not teams who are normally relegation fodder like Leicester City.
They say if you want to look where a team is heading, look to the stats and the history books and you will have a pretty good idea what to expect, but as anyone who likes to wager on this sport will tell you, it doesn't always work out that way in soccer. Normally the big upsets come in what they call the F.A. Cup (Football Association Cup), never in the league over an entire season. Sudden death cup games are one thing, but an unglamorous team like Leicester City from the middle of England going against the odds for an entire season in the league, how is this possible?
This time last year the Midlands club were anchored at the bottom of the Premiership with 10 games to go. The TV pundits didn't give them a chance to survive, but manager Nigel Pearson, managed to unite his team that he had got promoted from the league below, and galvanise them into a team that fought and scrapped for every point, in the end surviving by a whisker.
Given the backdrop of Leicester's 2014/2015 season and with a new manager Italian Claudio Ranieri, better known as the Tinkerman for constantly changing his team, they were +250 to get relegated for season 2015/2016. There was no way they were going to avoid relegation two years in a row, if they did with such a small budget to buy players, it would be considered a job well done.
Leicester City fans who prior to the new season starting had their yearly 'fun' bet of £5 or £10 on their club qualifying for a Champions League spot or even winning the Premiership, must currently be pinching themselves. Major bookies Corals and Ladbrokes were offering odds of + 500,000 (5000/1) prior to this season starting. As of April 1, 2016 with 7 games to go, Leicester lead all the big guns of the Premiership in first place, with their nearest competitor Tottenham Hotspur 5 points behind.
The odds on them winning a top four spot is now is -50,000 at Bet365 with Paddy Power feeling more generous offering -20,000. Not such a bargain price any more that's for sure, but sometimes you have to trust your hunches and swim against the tide when it counts, ask the Leicester City fans! You'll see plenty of them in the Hollywood movie on this miracle team when it comes out, and some a lot richer for the experience as well, how cool!