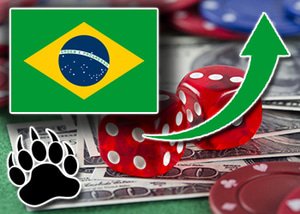 With the recession in Brazil reaching proportions beyond anything experienced over the last 25 years, there is a growing sense of urgency for decisive remedial action to be taken.
Legal gambling in Brazil as a bailout could provide answers.
The government of Brazil are currently in negotiations with lawmakers with the hope to negate current economic woes with a legal gambling Brazil solution. This essentially is the country's only chance of bailing themselves out of their current economic plight, since various proposed tax hike alternatives, were rejected by their Congress.
President Dilma Rousseff proposed these tax adjustments in an effort to overcome the national budget deficit. Since this was rejected, an alternative solution was put forward by Chief of Staff Aloizio Mercadante to whereby the government could regulate some type of gambling, and reduce the country's deficit that way instead.
Extent Of Current Gambling Restricted To Horse Racing & Lotteries!
In Brazil, Bingo has not been available since 2007 and incredibly to find any local casinos, Brazilian players have to go back to 1946! The only acceptable forms of gambling are to do with horse racing or federal lotteries, with other gambling activities having been banned in the past principally due to money laundering issues.
Leader of the small center-right political party, the Party of the Republic, Mauricio Quintella, claims that when Brazilians want to have a bet, they go to Montevideo, Paraguay or Las Vegas and leave all their money there, as much as $5.9 Billion annually! Now he is calling for action to curb this financial haemorrhage.
What For Canada & Australia - Any Problems There Too?
In Canada online gambling has become far more visible with everyone having their own opinion whether to create more legalized online gaming throughout the country. Currently Canada's Federal Government haven't actually had an official stance on legalized online gambling for citizens.
In 1969 the Federal Government granted their provincial governments the authority to conduct and manage their own lotteries, this was later amended to include computerized and video games of chance in 1985.
As with the United States where each state introduces their own gambling laws, there's also unique challenges including conflict between provincial government and native groups, who believe they have rights to promote online gaming services, similar to land based agreements already in place.
The Australians too have their own unique situation it would seem with them having introduced the Australian Interactive Gambling Act back in 2001 which essentially made online gambling illegal, other than a couple of dozen licensed sportsbooks.
They like the Brazilians are looking to plug the holes in money ending up in overseas coffers, especially with shady overseas operators. "It just ain't Australian mate" one can hear them saying. With legal gambling Brazil Canada and Australian politicians always call the shots. Every country has to balance their books, sometimes it just takes longer!