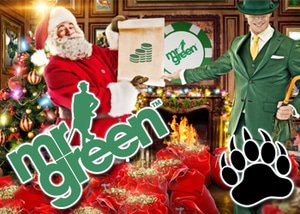 Today is the last day of 2016 (can you believe it?!) and Mr Green's Cash for an Entire Year Promotion is set to close tonight at midnight!
Time is running out for you to play and get your chance in sharing in this incredible promotion that will add cash to your account each and every week for the entire year!
Mr. Green, known for being one of the most pivotal casinos in the European Union, is in full swing with their "Win Cash for an Entire Year" Christmas promotion. The promotion has been available throughout the month of December and, once it's over, will see multiple players winning some huge money each week for a year.
In order to qualify for the chance to win the Cash for An Entire Year promotion, which started on December 1st, 2016 and will end tonight at 23:59 UTZ, you will need to register and play. Points are awarded for every $100 deposited, and for every $100 wagered on slots and tables. To check your position, check the leaderboard daily and watch as you advance towards the top.
The top four players during this promotional period will win a cash prize weekly during all of 2017. In addition to these four players, Mr Green Casino will also choose one "Wild Card" winner who will receive a grand prize. The first four prizes will be announced tomorrow, on the 1st of January, and the wild card winner will be announced January 2nd.
At the end of this promotion, on the 2nd of January, Mr Green will announce five winners who will be awarded the "Win Cash for an Entire Year" promotion. The five players will be chosen at random from the leaderboards. The only question is - will you be one of the lucky winners?
The 1st Place winner will receive €1,000.00 weekly for an entire year. The 2nd Place winner wins €250.00 weekly, and the 3rd Place prize winner will receive €100.00 weekly. The 4th place prize winner will receive €50 weekly. A special 5th place winner will win $100 weekly in a special draw.
There are very few casinos that offer promotions of such stature. Mr Green's player activity has certainly been in full swing this holiday season as players have been battling for the top prizes. Even though it's the last day of the month, your name could still be on the leaderboards, and you could win weekly cash for an entire year!