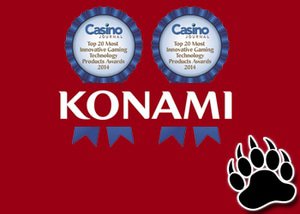 Casino Journal has put out their annual listing of their top 20 Most Innovative Gaming Technology Awards, and Konami has hit this top 20 twice.
Awards are really important to the gambling award more than many other industries. There is no unifying set of rules, standards or expectations for gambling on an international level, so it's critical that independent awards that have trust and authority reward companies with recognition for doing the right thing. This helps to set the types of standards that this industry desperately needs on an international level.
Konami Gaming, once known for their great titles on video game consoles like the original Nintendo Entertainment System, is now known for putting out great online casino games and technologies. In the most recent edition of Casino Journal's awards for the top 20 Most Innovative Gaming Technologies, Konami proved their worth by landing on the list twice. Each of their wins shows that the research and development going on at Konami is worth taking a look at for the rest of the industry because it's this type of envelope-pushing and innovation that will ultimately help the industry to press forward.
One award was for their Symphonik 3D Sound technology. This first had its debut in a Contra-themed slot, one of the most popular video game brands started by this company, and involved giving players an exceptional level of audio without separate speakers for a full surround sound setup. It combines a lower cost with a high level of 3D sound. Their other award was for the SYNKiosk tool that makes it easier for players to work with their loyalty programs by integrating a mobile app, land-based kiosks and in-game tools with a seamless interface.
Konami Gaming has been around for a long time, and now they're most well-known for their new games in the gambling space. They've been very aggressive when it comes to coming up with new technologies that work well with their games, and that's something that makes them really stand out from other companies that seem satisfied with sticking with the status quo. Overall, it's companies like Konami that are making a major difference in this industry.