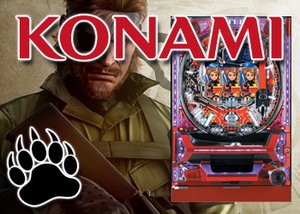 Konami, the Japanese publisher and developer of numerous trading cards, toys, slot machines, video games and arcade cabinets, have just registered a new trademark.
The new Konami Big Boss brand is an interesting name to pick as a lot of people will be aware that the name itself is the main protagonist that is in the Metal Gear Solid franchise.
What's interesting when looking at the new Konami Big Boss trademark is how they describe it. They say that it not only works for card games and video games of which they already have many, but it also works for Pachinko and slot machines, again something they are already actively involved in.
Konami - Looking Towards The Future
Looking towards the future, some people say PES 2016's tagline that goes "Look The Past, Play The Future" is a very good example of how things are currently shaping up at Konami.
Whilst the company are running their console business as usual, the Japanese company's thinking is that mobile gaming will be far more important with regards to short and mid-terms. That said they want to be ready for when that market really makes it's mark as well, however they say that doesn't mean that there will be any transition.
A few months back, there were reports coming out of Japan stating Konami was interested in dropping their video games business and moving towards more profitable ventures. Not only that, Konami are already active in the slot machine and Pachinko business where there's also a Pachinko game that is based on Castlevania, so this really shouldn't be any kind of a surprise to fans of video games.
They do say that timing is everything and one has to say it is at the very least a little curious as to why they register their new trademark at this particular moment. Especially in the light of the publisher's recent statement where they stated that they won't give up on series such as PES and MGS.
What For Series Creator Hideo Kojima?
One still awaits to see what is planned for talented series creator Hideo Kojima, as the role he will play with the company has been kept firmly under wraps. Earlier reports had already stated that he would have left the company following Metal Gear Solid V: The Phantom Pain and its official release on the market, however a month has already passed since that occurred.
It is conceivable that there may well be further news in the pipeline to be released after the Metal Gear Online launch that was released yesterday (October 6th). It was first available in the UK and was rolled out across the globe as the day progressed with Konami's official site updating their servers as they went live in each individual country. How the Konami Big Boss Trademark evolves, remains to be seen.