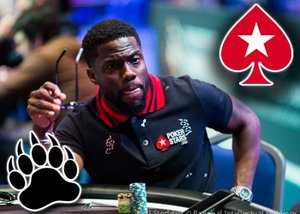 Megastar Kevin Hart, a successful comedian and movie star, has announced that he has agreed to a partnership with Amaya Inc. to promote PokerStars and the game of poker.
The goal is to introduce PokerStars, which is the largest poker room online in the world, to new audiences. The announcement came in a last-minute news conference that Hart called while in Monaco for the PokerStars Championship that is held at the Monte Carlo Casino. It is considered one the games most prominent live events, and Hart was pleased to be a Poker Ambassador on behalf of the company.
Hart used his Facebook page for the press conference and was joined by Daniel Negreanu, a Team PokerStars pro and the winningest player in poker, to make the announcement and detail how he plans to change the face of poker.
Hart stated: "I am going to make poker fun, and working with Poker Stars will give me the poker platform I need to do this," Hart said. "I'm glad there are all these poker pros here who I can compete with and take their money. But the best thing about poker is that anyone can play it, whether you're making millions like Daniel Negreanu or just sitting around the kitchen table playing for coins." Hart added, "I'm not going to tell you yet how we're going to do it, but I have some great ideas for bringing poker to the people while having fun." Hart further mentioned that he would take advantage of the many live events, social media, and the PokerStars marketing team to bring awareness to the social side of poker, as well as the fun it offers.
Amaya Vice President of Corporate Communications, Eric Hollreiser stated "We take poker seriously because that's our business. Kevin Hart makes everything he does fun because that's his business. Kevin is a maverick, and we're thrilled to work with him to take poker to new audiences around the world and have a great time doing it."
Arriving in Monaco at the Monte Carlo Bay Casino Hotel & Resort, Hart is taking part in the PokerStars Championship tournaments. Asa true comedian, Hart made waves with his customary antics and chatter, which was a nice break to the usual concentration that takes place during such events.
Monte Carlo Casino PokerStars championship
The PokerStars Championship took place at the Monte-Carlo Bay Hotel and Resort between the 27th of April and the 5th of May. The event saw the world's best players attending and competing for a spot on the final table, its first place bracelet, and a share in its estimated €30 million prize pool. Those who failed to make the event can look forward to a packed schedule as the PokerStars Championship series will continue with its continues with its 2017 schedule after crowning the winner in Monte Carlo.