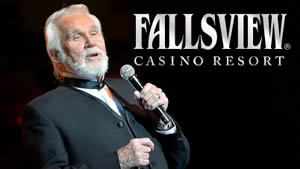 Fallsview Casino is well known for booking great entertainment to make their casino experience even better and Kenny Rogers is set to do just that this coming November.
With more than 120 million albums sold worldwide, across an impressive 65 he has released, Kenny Rogers is undoubtedly one of the most well known and recognizable country music stars the world has ever seen and he'll be bringing the gift of his unique voice to Fallsview Casino this November. He currently sits atop a mountain of awards and album sales, and success outside of his main genre of country music, but also pop, rock, folk, jazz, and rock. He's seen 19 albums go Platinum, 31 go Gold, and had 24 hits top the charts at #1. He was also given the RIAA's Diamond award for his Greatest Hits album achieving more than 10 million sales; this album alone has now gone to more than 24 million in sales. Kenny Rogers has also been inducted into the Country Music Hall of Fame and has multiple Grammy Awards to his name.
Now patrons of the Niagara Falls casino will get the chance to see him live for a limited engagement through November 12, 13, with show times starting at 8:30pm, and November 14, 15, starting at 9:00pm with ticket prices sitting at $35, a very reasonable expense for both those who regularly attend concerts and those who only attend for special occasions. Kenny Rogers' appearances are flanked by this casino's other well known attractions such as Liza Wang, REO Speedwagon, Frankie Valli and The Four Seasons, and Fallsview Casino's Christmas On Ice.
This year marks Kenny Rogers' 33rd Christmas & Hits Tour which means that fans can expect to hear not only the songs of the season but also some of their favourites by a talented and versatile singer and songwriter who became the oldest solo artist to have a #1 record, She Rides Wild Horses, in the entirety of chart history. Christmas mainstays such as Till The Season Comes Round Again, Mary, Did You Know, and White Christmas are among the seasonal hits that fans can expect to hear. On the other side, for those who know his extended works, hits such as Islands In The Stream, Lucille, Lady, and, perhaps most fittingly for the venue, The Gambler, can also be expected to make appearances.