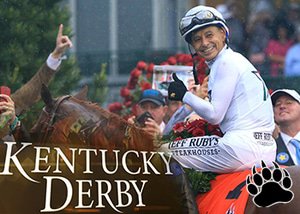 Justify wins the 144th Kentucky Debry by conquering rain and mud as well as a 136-year old curse in the process.
There was a good reason why crowds of people kept following Justify in the week leading up to the prestigious 2018 Kentucky Derby. Several spectators stretched out their necks to ensure the enormous chestnut colt was indeed on the track and more than 50 people gathered around Justify in the morning just to see him get a bath while clicking away with cameras.
Justify certainly used to all the attention by now, looked rather bored with everything prior to the start of the race. Now that the undefeated chestnut colt can legitimately add "Winner of the Kentucky Derby" to its resume, it's quite clear why so many people were intrigued by him. He's a genuine superstar.
Kentucky Derby Race Results
Justify not only claimed a legendary victory in the rainiest Kentucky Derby in history but also managed to lift a 136-year-old curse in the process. The chestnut colt managed to run the 1¼ miles in an incredible 2:04.20, completing the first half mile in just over 45 seconds and won the race by 2½ lengths at the 144th Kentucky Derby on Saturday. Justify also managed to end the Curse of Apollo and became the first horse to win the Kentucky Derby without competing as a 2-year-old since 1882.
The jockeys and horses were required to navigate through sloppy conditions during the first leg of the Triple Crown at Churchill Downs with over 2.5 inches of rain falling on Saturday in Louisville, making it the wettest Kentucky Derby day in history. The previous mark was recorded at 2.31 inches on May 11, 1918.
Justify's performance could easily be compared to American Pharaoh who managed to sweep the Triple Crown in 2015. American Pharaoh managed to break a 37-year drought and accomplished a feat most thought was impossible in this day and age. However, the adverse weather conditions pressed Justify to work considerably harder than the 2015 victor to achieve his remarkable conquest at the Kentucky Derby on Saturday since consistent deluge turned the racetrack into a quagmire.
Kentucky Derby Purse
Justify managed to earn a substantial paycheck for his ownership team, amounting to $1.24 million which is 62% of the $2 million purse. The co-owners, China Horse Club, Starlight Racing, Head of Plains Partners, and WinStar Farm bought Justify in 2016 for $500,000. Mike Smith, the 52-year-old jockey also received a sizable paycheck, receiving $124,000 which is 10% of what the owners collected.
The top 5 finishers all received a cut from the $2 million purse with Justify taking home $1.24 million for first place, Good Magic taking home $400,000 for second place, Audible taking home $200,000 for third place, Instilled Regard taking home $100,000 for fourth place, and My Boy Jack taking home $60,000 for fifth place.
Justify to Race in 143rd Preakness
For those of you who unfortunately missed out on a chance to bet on the horses at the Kentucky Derby can still catch Justify at Preakness on May 19. The chestnut colt is the overwhelming favourite for the second race of the Triple Crown series:
Justify 5/12
Good Magic 15/4
Diamond King 16/1
Quip 16/1
Bravazo 25/1
Sporting Chance 25/1
Noble Indy 33/1
Sportsbook Bovada offers multiple Triple Crown betting options. These include trifecta betting on horses that will finish 1-2-3, in that order. First-time bettors can claim a $250 welcome bonus to catch the second and third races of the Triple Crown.
*Odds as of May 9, 2018