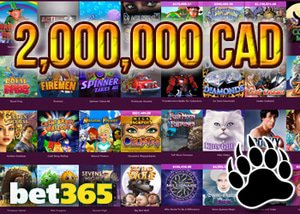 It's time to have fun at one of the internet's most favorite casino and now there's even more reason than normal to get cracking right away with a chance to be part of the fantastic Bet365 2 Million Slots Giveaway.
How much is £1,000,000 in Canadian Dollars you may be wondering or how much in US Dollars or Euros? Well it's a cool CAD $2,000,000, US $1,400,000, and 1,300,000 in Euros, either way you look at it, who wouldn't like a share of that!
How To Qualify For A Share Of The Spoils!
All players who play their favorite slots from February 1, 2016 until February 28, 2016, will be eligible to participate in the two million CAD Slots Givaway. There are 60,000 cash prizes up for grabs over eight draws throughout the month, and a qualifying ticket is earned each time that a £10/CAD $20/US $14 or 13 Euros wager is made on BET365 featured slots. It goes without saying the more you play, the more chances of snagging one of the winning prizes!
There will be eight draws that will take place before the month is out, and these will take place on February 5, 8, 12, 15, 19, 22, 26 and 29 (it's a leap year, remember!) There will be between 5,000 - 12,000 in cash prizes for the asking with each draw, and a maximum prize of 10k CAD or your currency equivalent in each draw, to enable plenty of chances of winning and claiming your share of this extraordinary 2 Million Slots Giveaway.
Don't forget, you will earn prize draw tickets by playing on the special featured games whilst the promotion is on, and the games will change for each round before the upcoming draw, so who knows what new game you may take a shine to, whilst stepping out and playing something different!
The Bet365 Casino is one of the best online casinos there is, and they have a huge collection of exceptionally well thought out well designed games, offering hours of endless pleasure, that will brighten up your leisure time no end.
With new customers also having the choice from 3 casino bonuses ranging from 200 to 1000CAD, as well as the chance to participate in some of their table games where you can be playing a game with a live dealer for company, you'll have plenty of entertainment to keep you occupied as well as the Bet365 2 Million Slots Giveaway. Pay them a visit today and strike while the iron's hot!