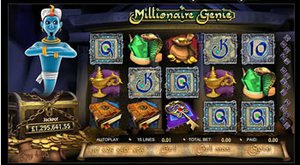 It's the moment that every online gambler craves, whether they admit it or not, the moment when a jackpot or huge gamble pays off and makes them instantly rich.
A New Jersey woman has become the first millionaire made since the state voted to make online gambling legal under specific licensed and regulated standards. Her huge win was a record setting $1.3 million from the progressive jackpot offered by Millionaire Genie, setting a new milestone and became instantly rich late one night without leaving the comfort of her home, or her pajamas for that matter.
Cathy Ruela of Morris County, was playing away the rest of the night before bed on November 6th, 2014 when she struck a 15 line bet which unlocked the Genie's Treasure Chest, and assigned her a randomly awarded prize total. The total itself, which could very well have not been expected to pay off so large, wouldn't even fit in the space provided to display the payout on the jackpot display.
She obviously wasn't expecting such a huge windfall that night so she needed a second set of eyes to confirm what she was seeing. She related her story, "I was betting and betting, and all of a sudden I hit the jackpot. It was pretty amazing. It was late at night. I was trying to read the decimal point, but the number was too big to fit. I called my husband and said, 'What does 1, 3, 3, 4, 6, 4, 1 mean?' He said, 'You won more than a million dollars.'" She went on to discuss more her playing habits and her plans for this coming Christmas with such a comfortable amount now sitting in her bank account.
Where are the Canadian online casino millionaires?
We commemorate Cathy Ruela for the impressive win in less than one year after the opening of New Jersey's first online casino, but when was the last time we've heard about the latest Canadian online casino millionaire? Sure, the provincial websites plaster the latest Lotto Max winners, but where are the progressive jackpot winners?
PlayNow has been up and running for more than three years in British Columbia with no such millionaire hauls and, similarly, Quebec's own Espacejeux has a similar track record of a long life with no wins in the million plus range. Why are these Canadian online gambling sites, owned and operated by the provincial governments, not paying out even close to what we're seeing since the legalization of regulated online gambling just south of the border?
It's about time for the provinces to reassess the payouts of the games and services they provide in light of how many Canadians continue to play at offshore sites. Operators in the United States have figured out the value of paying out players to attract additional customers, it is sure about time that our provincial counterparts figured out the same.