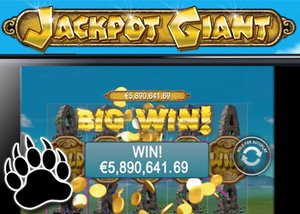 It has just been announced that a 5.8 million Euros jackpot win on Gala Bingo has been claimed by a librarian on her Android device, whilst playing on the Playtech, a Jackpot Giant progressive slots game.
This sets the record for the largest mobile slot jackpot win in the United Kingdom, after the player spent just 8 CAD spinning her way to a huge 6.4 million payout(£4.5 million).
Win Equates to 170 Years Of Work!
The massive win is equivalent to working for 170 years based upon the national average salary in the United Kingdom, and the jackpot win on Gala Bingo, is the largest that has ever occurred on a Playtech network Bingo site. The last win they had was on their progressive Beach life game, which saw jackpot winnings of 12.5 million back in 2012.
In just 2015 alone, the company had an amazing 695 daily Playtech jackpot winners with a monthly average of 20,850 winners, the largest for any company within the gaming industry. They currently have a staggering £50 million in waiting ready to be won, across their entire network of progressive jackpot games.
The lucky librarian player from Glasgow, Scotland who wishes to remain anonymous, was blown away by the experience. None the less she went back to her duties of stamping literary works of fiction and fact the very next day, appearing unaffected by her life-changing win. She has been one of Gala Bingo's loyal customers for three years and scooped her win whilst on her Android Galaxy S5, playing the Playtech omni-channel slot, Jackpot Giant.
Playtech are the leading omni-channel gaming software provider in the world and they have more than 600 slot titles available through their casino portfolio, along with even more through their open platform integration.
Shimon Akad COO for Playtech congratulating the player and Gala Bingo said for someone to claim the mobile slot jackpot record for the UK is fantastic, and proves that the company lead the industry when one looks at progressive jackpot games. He added that it was yet another great reason for folks to be part of Playtech, the industry's leading light.
Brand Director of Gala Coral Interactive, Alison Digges said that it was the biggest ever jackpot win on Gala Bingo to date. She added, "we're delighted one of our many loyal players has claimed the prize. Jackpot Giant is one of our most popular progressive games and we can't wait for yet more winners."