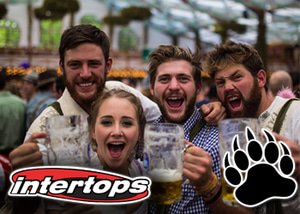 Celebrate and raise your glass for a share of $30,000 in weekly giveaways at Intertops Casino.
The largest beer festival in the world, Oktoberfest is just around the corner bringing joy to beer fanatics across the globe. To commemorate the event, Intertops Casino will be awarding its punters with exclusive bonuses worth $120,000 for four weeks between the September 5th and October 3rd.
Intertops Casino Oktoberfest $30,000 Give Away Every Week
Oktoberfest is upon us once again, and Intertops Casino is hosting their annual celebration with $120,000 up for grabs! The establishment is giving a whopping $30,000 in weekly giveaways PLUS a special cash prize at campaigns end. The Intertops Oktoberfest promotion will make sure that the top 300 players on the Oktoberfest leaderboard receive a grand total of $30,000 in bonuses every week. Bonuses range from $30 for those who manage to just squeeze into $500 for top 20 players.
This amazing Intertops Oktoberfest promotion, will hand over a lucrative $120,000 in bonuses in a month. This exhilarating event will certainly serve as an incentive for players to play more. With the first promotional cycle kicking off just a few days ago, it is definitely not too late to get in the mix.
How to obtain your share in bonuses during the Intertops Oktoberfest
The leaderboard works on a very down-to-earth principle: the more you play, the more points you will obtain. All players will receive points for placing wagers on their favoured online games and are automatically entered into the big bonus race.
On top of the fixed bonuses subjected on where you are placed on the leaderboard, random draws will also take place every week on Thursdays. Irrespective of how many points you earn during the week, you will still be entered into the random draw where 50 lucky players will receive a special bonus.
To conclude, at the end of the promotional period, the overall top 20 players will be entered into a draw for the $1,000 grand prize!
How to Participate in the Intertops Oktoberfest Promotion
All you need to do to be eligible to be included in this spectacular event is to make a real money deposit of at least $75. By doing this you will automatically become a part of this exiting competition.
Remember that the more you play, the more points you'll earn, and the bigger your prize could be each week! The leaderboard is reset every Monday and points do not roll over from one week to the next.
Deposit and play $25 or more between Monday and Wednesday to qualify for a Thursday bonus.
The Intertops Oktoberfest Promotion is one promo that you don't want to miss out on, so make sure to get in on the action and get you beer money on the house!
Get a 100% bonus matching up to $100 in free cash at Intertops Casino
If you are looking for the perfect betting site that will fulfil your online gaming needs and desires we recommend you play it at Intertops Casino The online entity offers a fantastic welcome bonus to all new clientele. All new punters signing up get to claim a great welcome package. This is a bonus of 100% up to $100 in free cash. Be sure to keep an eye on the promotions page of the website so you don't miss out on the exciting bonuses and incentives. This includes the latest Intertops Oktoberfest Promotion that is currently running.