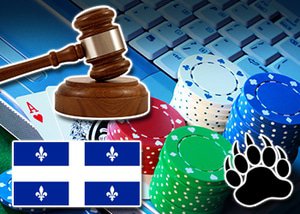 It looks like Quebec could be facing opposition to the provincial government's internet blocking law.
According to reports, Quebec First Nation community is preparing to fight the provincial government's interference with the internet. Media reports from Montreal last week have indicated that an unidentified Mohawk First Nation community is preparing to take on the Quebec provincial government over their questionable new law 74, which authorizes the ISP blocking of online gambling websites. The list of sites to be blocked is to be determined by the province's own Loto-Quebec gambling enterprise. Loto-Quebec has their own online gambling site EspaceJeux.
The law that was passed by the Quebec provincial government under the guise of a public health measure has attracted a lot of criticism. The law was passed after provincial politicians had already discussed removing competition to improve the revenues for EspaceJeux. The wide criticism they have received relates to their anti-competitive nature and the conflict this new law has with the Net Neutrality concept and federal laws which place the responsibility for telecommunications squarely in the national government's jurisdiction.
Quebec Finance Minister Carlos Leitao claimed that "illegal" online gambling websites have cost Loto-Quebec upwards of CA$200 million in lost revenue.
The Mohawk community have claimed that this new law violates their tribal territorial rights. Internet freedom advocates have condemned this new law too stating that it is a dangerous precedent for further government interference with the internet.
Michael Geist, an online law expert has stated that this new law is questionable on several grounds. He has indicated that the Quebec government is attempting to censor the internet for their own commercial gain.
As yet, no court filing have been reported, but the Mohawk community involved is reportedly standing firm in their intention that the new law must be challenged. We don't know what the outcome will be or if court proceedings will come of this opposition but we will be keeping our eyes peeled and reporting on any further details as they arrive.
Quebec Online Casino EspaceJeux
Espacejeux is the official legal online gambling site for residents in Quebec. It launched on the 1st of December 2010 but at the end of 2014 a group of researchers stated that it hadn't made a big enough impact or enough revenue for the government. One of the main reasons for this was that unlicensed foreign sites were taking most of the revenues. The report recommended a licensing process be put in place to allow foreign operators to become licensed in Quebec. Unfortunately this didn't happen and in March 2015 the government began making plans to enforce ISP's to block residents in Quebec from viewing international gambling sites. Bill 74 came into effect on the 17th of May 2016 and it includes language authorizing the ministry of finance to order ISPs to IP-block online gambling sites other than EspaceJeux. Loto-Quebec was then put on the clock to draw up a list of offending sites. If ISPs don't enforce this blacklist at their own expense within 30 days of receiving the list, they can be fined up to $100k per incident.