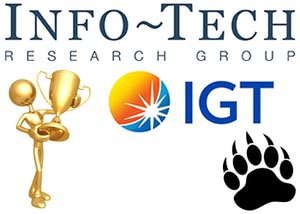 IGT has been recognized once again for their outstanding product by earning the number one spot in a recent ranking by the Info-Tech Research Group.
One of the most important things about the online casino industry is that it self-regulates in a lot of ways. This is key because there is no international agreement on what constitutes a good site or software company. IGT has found this out over the years themselves, and they found it out again after receiving top marks in a study by the Info-Tech Research Group. This group sought to rank about a dozen of the top software providers in the business.
The Top Online Slot Vendor
IGT has positioned itself as an industry leader by providing tons of top games to both land-based and online establishments. This is pretty cool, but not everything is sunshine and rainbows. For players in certain countries like France, the United States and Canada, you aren't supposed to be able to play the free version of their games. Instead, they've been packaged for individual sale for play money. While we can't blame them for trying to get paid for their intellectual property, it is unfortunate for the players who just love enjoying their games.
A Big Merger
IGT and GTECH have had a big merger recently, and that's pretty interesting in terms of how it fits into the study. It's not completely clear if GTECH's influence (if any) was included in the criteria for this study which included the layout of of the software, the usability of the platform and the way it has been integrated into other platforms.