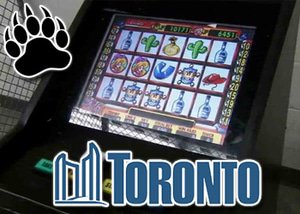 Members and bosses of the Mafia have a long history of using social clubs and cafes for their hangouts and meeting places, and illegal gambling machines in Toronto is nothing new.
Currently a special crime unit has been put together to target organised crime in Ontario, and a series of organised raids has been carried out on Italian cafes and social clubs in the Toronto and York region, culminating in the seizure of cash, illegal gambling machines, and the arrest of 15 individuals.
Sizeable Haul Of Illegal Gaming Machines Confiscated
Even though the raids are all part of an ongoing illegal gaming machine investigation, the thrust behind search warrants being issued is violence related, with organised crime frequently behind illegal gambling machines in Toronto.
The project named "Project Oeider" which has been organised by the RCMP-led Combined Forces Special Enforcement Unit, was responsible for police searching 11 social clubs and cafes. They combined in a joint operation alongside Ontario's Provincial Police's Organised Crime Enforcement Bureau, specifically it's illegal gaming unit, and searched one private residence as well.
Seventy-four illegal gaming machines were confiscated during their search, with 15 arrests made with 3 arrest warrants still outstanding said police. During the raid, $200,000 in cash was removed from the premises, with the impounded machines similar to slot machines found in a casino.
The difference here to note is that the machines seized are operated without government sanction usually in social club and café backrooms, and known only to special customers, who are allowed on the machines to play for money. It would appear the arrests focused around each establishment's "keeper", the one who decides who is trusted enough to play for cash, and pays out winnings and deals with players that fall into debt.
Since a private residence was on the list of raid targets, it seems likely that a person distributing the machines to the establishments was also ear marked. Officer in charge of Serious and Organised Crime in GTA and CFSEU, Superintendent Keith Finn, said that there had been a marked increase in serious violent acts over recent years including fatalities where such goings on occur.
He went on to say that illegal gambling machines in Toronto in these establishments brings an element of criminality that is unacceptable to our communities. It lines the pockets of organised criminal groups and in the process puts all citizens at risk. A stance has been made that this will no longer be tolerated.