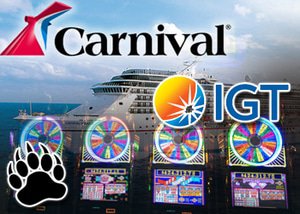 International Game Technology (IGT), a US gaming supplier, is to debut their latest Wheel of Fortune branded video slot on the Carnival Cruise Line.
The Carnival Cruise Line is the world's largest cruise line operator and IGT is going to supply them with the new Wheel of Fortune Double Diamond 3D video slots game. Passengers on a variety of ships across the Carnival fleet will be able to try out this new IGT slots games first hand.
This new Double Diamond 3D title follows on from the success of the earlier Wheel of Fortune video slot that was also debuted on Carnival ships. This new title will initially roll-out on nine of the vessels.
IGT are also going to work with the cruise ship operator on the Carnival Cruise Line Spin N Sail slot tournament. This event takes place in November during an eight-day Caribbean cruise aboard the Carnival Magic from Port Canaveral, Florida. The prize pool for this event is $200,000 and includes as $100,000 grand prize for one lucky winner.
IGT casinos across Canada and the US will host qualifying events and the winning players will be given a free cruise for two and entry into the grand finale $200,000 slots tournament.
Nick Khin, IGT's senior vice president of sales, North American Gaming and Interactive said, "The cruise line industry debut of IGT Wheel of Fortune Double Diamond 3D video slots and our Spin N Sail marketing promotion with Carnival Cruise Line exemplifies how we work closely with our valued customers to provide unique and exciting experiences for players."
He also went on to say, "This agreement represents another milestone for IGT Wheel of Fortune slots, now celebrating 20 years and more than 200 themes that players have enjoyed around the world."
David Thomas, Carnival senior director of North American operations and global casino operations, said, "We're pleased to add these exciting and ground breaking Wheel of Fortune 3D slots to our shipboard casinos, part of our year-long Wheel of Fortune celebration. IGT is a valued partner and these new Wheel of Fortune 3D slot machines capture the spirit and fun of the world's most popular game show in a fun and innovative way."
If you want to get your hands on a free cruise for two and entry into the final of the $200,000 slots tournament, be sure to sign up as a real player with one of the many IGT casinos and keep your eyes open for when the qualifying events will take place. You can also play a great selection of free IGT slots here on Grizzly Gambling and we have some exclusive bonus offers for those that wish to sign up for a real player account with top IGT casinos.