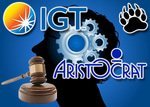 International Game Technology (IGT) and Aristocrat have announced that they have reached an agreement regarding cross licensing issued that were raised last year.
IGT announced that it had reached a comprehensive cross-licensing agreement with Aristocrat covering intellectual property involving game features and system patents. The terms of this agreement have not yet been announced and both companies have released their own statement on the matter. IGT also announced that both parties have agreed to settle all outstanding litigation between them. This should pave the way to some great new IGT slots being developed and released.
IGT Chief Executive Office North America Gaming & Interactive, Renato Ascoli, said, "IGT's R&D investment and patent portfolio are the largest in the gaming industry. We are pleased to have reached this agreement with Aristocrat as we build upon our leadership in gaming innovations. This agreement demonstrates both companies' shared commitment to investing in and preserving the value of intellectual property."
Aristocrat Chief Financial Officer & Company Secretary, Toni Korsanos said, "Turning ideas into value-adding innovation is core to Aristocrat's mission to 'create the world's greatest gaming experience every day'. Our agreement with IGT will contribute towards this, and we are pleased to have finalized these arrangements."
Aristocrat slots are really popular with players around the world including Sons of Anarchy™ a new slot game based on the hit TV series from FX.
The patent dispute litigation that was brought forward last spring has now ended and although the terms of the agreement have not yet been announced, it is a huge step forward. IGT filed a dispute in March 2015 claiming that Aristocrat had infringed on ten of its patents and Aristocrat argued that IGT infringed on four of its patents. This new cross-licensing agreement that has been reached shows that both companies appear hopeful for their future development.
How Will This Agreement Impact Online Casino and Slots Games?
What we have is two companies working at the cutting edge of the gaming industry. Boundaries are bound to cross over at times and this is why the cross-licensing agreement that has been reached is going to be great for the industry. Having continual patent litigation battles will only stifle R&D in the online gambling market which thrives on innovation. We feel that the agreement reached between IGT and Aristocrat is a huge step forward leaving both companies free to do what they do best and that is creating online slots games that revolutionize the online gambling industry. We are expecting to see some excellent new IGT slots games and Aristocrat slots being developed and released by both companies in the coming months.