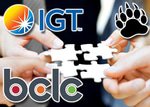 The British Columbia Lottery Corporation "BCLC" and "IGT" International Game Technology PLC announced this week the first Omni-channel jackpot launched in North America offering a pool of $1 million upwards, it is the first legal B.C casino online. Linked with the land-based Powerhits slot games the Canadian debut of IGT's Powerbucks is the first progressive jackpot pool linked to games at the BCLC33 gaming facility enabling the game to be accessible on desktop and mobile plus versions of PlayNow's Powerbucks Jackpot is available on in Manitoba and British Columbia.
Working closely with BCLC for the past nineteen years enable IGT to deliver a dynamic and innovative casino style games. IGT started offering online games in 2010 via PlayNow Casino, which was the first regulated gambling sit in Canada. While BCLC and IGT continued to create and design exciting and new gaming experiences for players the launch of the congregated Powerbucks jackpot is indeed a milestone for both and a brand new way of increasing players enjoyment in and increasingly digital world.
The Vice President of eGaming, Monica Bohm, BCLC shared that Powerbucks offers a completely new jackpot experience that is unique to the players at PlayNow.com as well as to North America. She also shared her joy that Powerbucks enable players to enjoy an opportunity to reach wins of $1 million or more from local casinos, home computers or any handheld devices.
In answer BCLC Vice President of Casino & Community Gaming, Brad Desmarais said in a press conference that the introduction of such a ground-breaking product as Powerbucks, assist BCLC to deliver the best possible entertainment in gambling that is focussed towards benefiting the British Columbian communities.
IGT's Regional Vice President in Canada, David Flinn said that Powerbucks is an extension of the IGT's legacy in creating omni-channel products that transform player's enjoyment and at the same time push innovation to new heights. Powerbucks provides players with a wide range of betting options starting from $0.50 up to $2.99 to stand a chance of winning a jackpot worth $1 million, in order to win the massive progressive jackpot a minimum wagering of $3 is required.
IGT is a world leading software provider specializing in offering the very best gambling experience to both land-based and online players across all platforms including mobile and PC. With years of experience and a passion for creating the best possible gaming enjoyment, the company offers a wealth of brilliantly created content created via leading edge technology. Currently, over 12,000 employees are part of International Game Technology PLC.