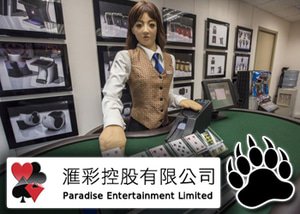 With an unflappable manner, friendly face and hourglass figure a svelte like brunette was recently unveiled for her debut at a gaming show in Macau last month, this however was not just any ordinary type of dealer set to grace the other side at the Baccarat table.
This was a prototype of a human-like female dealer which Hong Kong based gaming manufacturer and supplier Paradise Entertainment Ltd claim could open up a whole new market, at the same time cutting down on labor costs for land based casinos. Welcome to the world's first human-like robotic dealer.
Robotic Casino Dealers - A Way Around The Law?
One has to admit it does sound like something out of a science fiction novel going to a casino and interacting with a human-like robotic dealer, and how the different US states will view this where land-based casinos are prohibited is intriguing.
There are bound to be potential casino operators ready to expose this loophole where the game is not conducted by a human but indeed an electronic machine. Will officialdom treat it with the same disdain that they already treat electronic cigarettes and classify casinos in the future wanting to utilize these robots underneath the same umbrella?
Analyst for the Union Gaming Group, Christopher Jones, claims that automated table games in casinos are indeed a growing sector of the North American gaming industry. He goes on to say players new to casinos may seek out tables with robots to avoid any embarrassing mistakes.
Carlos Siu who is an associate professor at the Macau Polytechnic Institute considers that robots could be a good solution in the gambling jurisdictions where real dealers are banned, however point of fact is that it's just not the Asian way.
Gamblers in Asia frequently shout loudly to liven up the mood and slamming the table is quite the norm. Could the whole experience be taken to a new level where there was a robotic manager, who could eject rowdy trouble makers causing a scene if the human-like robotic dealer for some inexplicable reason broke down in the middle of dealing a hand of blackjack, wonder what the odds on that would be?!