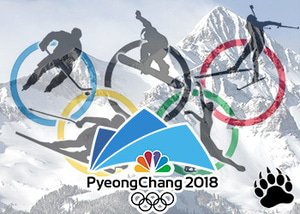 The 2018 Pyeongchang Winter Olympics kicked off with a bang on the 9th of February along with a marvellous opening ceremony.
With more than 100 different events in 15 disciplines, there will be no shortage of betting opportunities for both eager bettors and sports enthusiasts in the online sports betting industry.
Winter Olympics Venue
The Winter Olympics is taking place in the country of PyeongChang, South Korea after winning the bid in July 2011 with 63 votes in only one round. This is the first time South Korea is hosting this major international sporting event as they've previously only hosted the Summer Olympics back in 1988.
The events for the 2018 Winter Olympics will occur across two main locations namely Gangneung Olympic Park and Alpensia Sports Park from the 9th of February to the 25th of February 2018. There is a total of 13 different competition venues and 6 of them have been built specifically for the Winter Olympics.
What Makes the Winter Olympics So Unique?
There are several reasons why the 2018 Winter Olympics is attracting so much attention. One of the most significant reasons is that North and South Korea were represented as one team under the Korean Unification Flag. It was also major news that the athletes of North Korea were able to cross the Korean Demilitarized Zone to participate in the 2018 Winter Olympics. Although South Korea and North Korea will participate separately in most of the disciplines at the Winter Olympics, they will participate as a Unified Korea during the women's ice hockey category.
There are also 4 brand-new events available this year along with 6 new nations making their appearance for the first time at the Winter Olympics, including Eritrea, Kosovo, Singapore, Nigeria, Malaysia, and Ecuador.
There's also been a significant alteration to Ice Hockey this year that bettors will need to keep in mind. The 2018 Winter Olympics is the first time that NHL players won't be participating in the ice hockey event since 1994. The primary reason for this alteration is the fact that the NHL doesn't see any positive impact on the sport or business and decided to withdraw from the Winter Olympics because of this.
Placing Bets During the 2018 Winter Olympics
One of the most exhilarating factors of the Winter Olympics this year is that there will be more than 100 medal events occurring for the first time ever. There are 102 events in total being featured at this year's Winter Olympics, 4 of which are new. The new events include Mass Start Speed Skating, Mixed Team Alpine Skiing, Mixed Doubles Curling, and Big Air Snowboarding.
The range of sports at the Winter Olympics are split into 15 different disciplines namely speed skating, snowboarding, ski jumping, skeleton, short track speed skating, Nordic combined, luge, ice hockey, freestyle skiing, figure skating, curling, cross-country skiing, bobsleigh, biathlon, and alpine skiing. Each of these disciplines will contain several events of which ice hockey and skeleton will feature the least with a total of 2 events per discipline, while speed skating will feature the highest number of events with a total of 14. The most popular events to place a bet on ice hockey, curling, ski jumping, speed skating, and biathlon.
Where to Place Your Bets
Bettors can easily take part in the Winter Olympics by placing a bet on any of the hosted events. Sports Interaction is a highly recommended sportsbook and a top choice among Canadian bettors with an excellent list of betting options along with very competitive odds. To get the most out of your sports betting action, we included a few underdog plays that you need to consider before placing a bet on the Winter Games.
In the Bobsled Two-Man event, the battle for first place will be between Francesco Friedrich (+200) from Germany and Justin Cripps (+250) from Canada. However, don't overlook Nico Walther (+500) from Germany who has claimed several World Cup victories. In the Men's Cross-Country Skiing event, Johannes Klaebo (-125) from Norway is considered the heavy favourite but keep an eye out for Alex Harvey (+900) from Canada who is currently the best in the world when it comes to long-distance events. Lastly, in the Women's Skeleton event, Jacqueline Leolling (-125) from Germany is the favourite to take gold. However, Tina Hermann (+550) from Germany managed to finish second in two World Cups behind Leolling, making her a smart choice to pull off an upset.