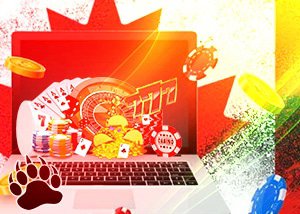 Discover how the online gambling industry has evolved in Canada as we discuss the history of gambling, the legalization, the current landscape, and the future of the iGaming business.
The online gambling industry in Canada is an enormous business in 2022. Gross sales per year are around $31 billion while purchases relating to gambling services are over $14 billion per year. These astronomical figures continue to climb each year with the expansion of the iGaming industry. Gaming technology development has also contributed to the success of online sports betting sites and online casinos.
The wide range of various gaming features and services have also provided added flexibility and freedom to online gamblers in Canada, especially when you look at the technological advancements that mobile gaming has provided. With the availability of high-speed internet in every corner of the country, there is no stopping the rapid growth of online gambling for Canadian players. With that in mind, let's take a look at the history of gambling in Canada, the legalization of gambling in the country, the current landscape, and what the future holds for this ever-growing market.
The History of Gambling in Canada
The history is rather vague when it comes to gambling in Canada and when it first appeared in the country. Aristocrats and European royalty indulged in table games like roulette during the middle ages, but dice games and gambling were largely prohibited in the country due to the law. John Cabot first landed on the east coast of Canada in 1497, bringing playing cards with him. However, the origins of gambling in Canada stretches back much further than that.
When John Cabot explored the vast wilderness of Canada, he and his men found indigenous tribes playing a variety of games of chance. One of the most popular games of chance played by the tribes was the stick game, also known as Slahal. This rudimentary stick game was played south of Niagara and it's still enjoyed to this very day.
The first official gambling event took place in 1767 in Quebec City. The gambling event was horse racing and it attracted loads of people across the country. In 1989, the first land-based casino opened it's doors in Winnipeg, creating a solid foundation for gambling to expand across the country. In 1994, the first online casino was available to players in Canada. Since then, the online gambling industry has boomed, giving players access to some of the best online casinos in Canada from the comfort of their own homes.
The Legalization of Gambling in Canada
Illegal gambling was the domain of organized crime in the country several decades ago, and since most forms of gambling were outlawed in Canada before 1970, these individuals had plenty of opportunities to ply their trade. This slowly changed in 1970 when various gambling activities were made accessible to the average Canadian citizen. In 1985, another giant leap took place when territories and provinces were given the right to oversee gambling activities, including lotteries, charitable gaming, and slots.
It's worth noting, however, that it's illegal to operate an online casino in Canada without a gambling license. Thankfully, it's perfectly legal to play at offshore online casinos as a Canadian citizen. You'll find hundreds of gambling sites that cater to the Canadian market. However, if you are looking for the best online casinos in Canada, we highly recommend that you visit our casino review section for more information.
Online Gambling in the Modern Era
Today, Canadian gamblers are spoilt for choice when it comes to online gambling in the country. You can either play at several regulated gambling sites that are licensed by one of the 10 provinces or you can register and play at one of several offshore gambling sites if you want a bigger game selection and a plethora of promotions and bonuses. Canadian players can take advantage of live dealer games, video slots, table games, video poker, virtual games, bingo, and scratch card games on both desktop and mobile devices.
You can also claim a wide variety of generous promotions and bonuses, including welcome packages, reload offers, cashback deals, slot tournaments, live dealer tournaments, table games tournaments, loyalty programs, and some of the best no deposit offers to test the waters before spending your own hard-earned money. Most online casinos also come equipped with an online sportsbook, giving you access to just about any gambling activity you can think of without having to leave the comfort of your own home.
The Future of Online Gambling in Canada
No one really knows what the future holds for online gambling in Canada. Live dealer games provided a new way to gamble against real live dealers on some of the best table games and game shows from both desktop and mobile devices. Cryptocurrencies offered a new way to make online transactions in complete anonymity, and VR gambling is gaining popularity in Canada, giving you the ability to soon walk through a virtual casino instead of scrolling through pages and pages of gaming content.
We at Grizzly Gambling are committed to providing the latest news and reviews as it unfolds in the Great White North. Therefore, we highly recommend that you bookmark our website to stay up-to-date with the latest trends and technological advancements as they happen in the online gambling industry. We also provide exclusive promotions and bonuses at the best online casinos and provide comprehensive reviews to ensure you find the best gambling site that is right for you!