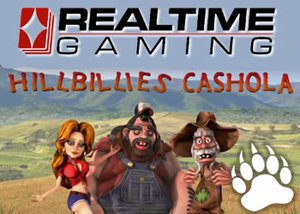 These Hillbillies may come from some of the most out of the way backwoods, but the new online slots game, Hillbillies Cashola, looks to feature the best graphics that Realtime Gaming online casinos have ever presented.
This world class online casino game developer has always been known for innovation and pushing the limits of what their medium can do and their upcoming release of Hillbillies Cashola seems to have the best graphics of any slot game yet. As close to real three dimensional animation in their characters as one can get designing for a flat computer and mobile screens paired with a fun new game makes for a future hit when it drops on June 24th this summer.
Preview of RTG's New Video Slot Machine
Along with the amazing video quality, this five reel, 20 pay line video slot machine is sure to turn out some big winners with its pay scheme that awards random jackpots as well as the chance at bonus prizes. Once you've come across these comically stereotyped hillfolk, comedically named Billy Jo, Billy Bob, and Billy Bubba, you'll never want them to leave as having any member of this family in your posse when you hit a winning combo could multiply the win by up to 20 times!
If two of them happen to be present on a spin, you could find yourself scaring up eight free games which also has additional payouts for the 'billies showing up. For those keeping track, that's three different ways to find yourself wading out of the swamp, off the farmland, and into a ton of cash!
Check out the promotional video and get yourself whoopin' and hollerin' before heading off to one of their partner sites such as Bodog Casino with a No Deposit Bonus and First Deposit Bonus of 100% up to $600! The Hillbillies Cashola slot game will be available in no download casinos and mobile casinos with RTG software.