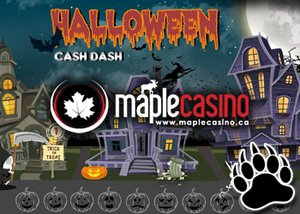 Maple Casino is getting set for Halloween. This year, the casino is excited to have their own take on the fun of trick or treating with their Halloween Cash Dash Tournament.
For this reason, a few extra days have been added to make the Halloween cash dash tournament last a bit longer. The promotion officially started on the 26th of October and will continue until the 6th of November 2016. With this exiting Maple Casino bonus, treats will be handed out in generous casino bonuses while some other winning tricks might just be up to their sleeves. They're focused on offering players a good time.
Rewarding players with pumpkins makes this exciting promotion easy to grasp for everyone and it does compliment the theme allowing every player to carve out his/her winning wishes. The grim reaper is chasing after a bunny and when he does catch the bunny, players enjoy a special bonus treat that will be kept until the end of the Halloween promotion.
Participating in the maple casino bonus, players need to progress through six different checkpoints along the way and at each of the checkpoints players get to earn ten pumpkins. At each checkpoint, the pumpkins light up in different colours and once ten pumpkins have been rewarded the specific checkpoint will light up in the same colour as the ten pumpkins won. Completing a checkpoint awards the respective bonus as indicated at the checkpoint.
Wagering, Checkpoints, and Earning Pumpkins
Every 250 coins wagered by players in the green, gold and silver tiers would be treated to one pumpkin so in order to complete any of the checkpoints a wager totaling 2,500 coins is required. Players who are part of the platinum tier who are all VIP players will receive a pumpkin for every 1,000 coins wagered and for them to complete a checkpoint would mean wagering a total of 10,000 coins. Russian players who wager in rubles will be required to wager 6,250 rubles in order to receive one pumpkin. So for a player from Russia, a total wager of 62,500 Russian rubles would be required in order to complete any checkpoint and light up all the pumpkins and checkpoint in the same colour.
With this new Maple Casino bonus, players are invited to enjoy taking part in the Halloween Cash Dash tournament promotion where pleasant bonuses are waiting to trick or treat you on your way to excellent rewards. New players to Maple Casino can enjoy a bonus of up to $500 plus free spins and a bonus of 250 loyalty points.