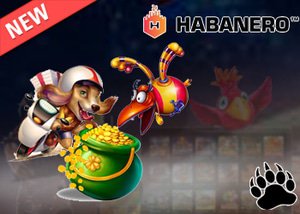 Casino games provider Habanero has recently launched Jackpot Race - a brand-new patent pending jackpot system that will be shared between a pool of winners.
The world-class online table and slot games provider, Habanero, has recently announced that a brand-new patent pending jackpot system is currently in the works. The new Jackpot Race jackpot system from Habanero will offer slot enthusiasts a jackpot system that will be shared between a pool of winners.
The new system will feature hosted races that will see a jackpot accumulate in value, while the jackpot needs to be triggered before the allocated time runs out. This innovative product from Habanero casino software will definitely provide an extra layer of excitement to online gameplay.
The New Jackpot Race System
Habanero's new jackpot race system will significantly grow in value while players participate during the time frame of the race. The jackpot will only be available during the allowed time frame. Once a jackpot payout is triggered, active players will receive winnings that will be based on the received bet that is placed on the server. A customizable prize pool will offer set payout amounts.
In a recent press release, Toni Karapetrov, who is Habanero's Head of Corporate Communications, stated: "We are thrilled to release our new Jackpot Race system. We named it Jackpot Race due to the fact that it's competitive by design and players will have the opportunity to win simultaneously on a share of the overall payout. The latest offering will include assistance along with customized promotional content. It will also feature built-in dialogues and feedback within each game that will ensure excitement is kept at the highest levels. It will also give operators the ability to fully customize their own Jackpot Race. We are confident that both operators and players alike will be delighted by this sensational addition to our growing portfolio.
The new Jackpot Race system by Habanero is a product that will be fully customizable. Operators will have the opportunity to set the product on their player demographics as well as their own needs. The number of slots included in the race along with the jackpot accumulation duration as well as the schedule of the Jackpot Races will all be determined by each casino operator. Even the minimum qualifying bet and the allocation of the prize pool can be determined by each operator.
Where to Find the new Jackpot Race System
The new Jackpot Race system will be available at all Habanero casinos in 2019, providing a fantastic new gameplay experience will an added layer of excitement and winning possibilities. Sites such as will be offering the new Jackpot Race system. Players can join the online casinos and qualify for a welcome bonus. Read our Win Paradise Casino review and sign up to start playing and winning.