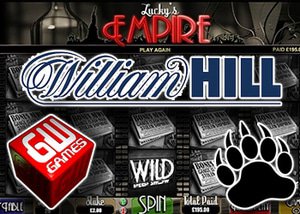 A new deal with William Hill will see GW Games' new Lucky's Empire slot in one of the largest UK online casino options, land-based betting shops and more.
William Hill has been known for mixing their game release channels in ways that other online gambling operations can't really do. They've been doing this through what they're calling their "omni-channel" movement, and what this means is that it's available on all of their platforms: online casino, mobile casino and land-based betting shop kiosks. GW Games casinos recently have a new slots title that will be released along these lines.
US Prohibition Meets UK Online Casino
The new Lucky's Empire online slot is based around a theme of US prohibition of alcohol and the organized crime that followed in the 1920s. It followers bootlegger Lucky who is looking for a thief who stole a part of his stash. The graphical appeal is definitely worthy of land-based kiosks, but the format is familiar enough that video slot fans will be able to get in on the action without feeling like they have to learn something completely new.
Feature-Packed Online Slot
This game uses five reels, three rows and 20 paylines. One of the main features that drives the gameplay is a re-spin style feature that gives players winning symbols that lock in place while the rest of the symbols spin again to give you chances at more wins. These re-spins continue each time you improve to another payout.
You'll also be able to take part in a bonus feature that's all about trying to find the thief who stole your stash of liquor. There's a bonus stage with up to three different parts, and you'll even have a chance to search different buildings where the stash itself could be hidden. Find the right spot, and you'll be rewarded handsomely. You can even be taken to Lucky's office where you'll be able to select from a number of briefcases that include cash rewards for helping him out. Overall, this is a great game that gives a high level of action and a lot of different ways to get paid.