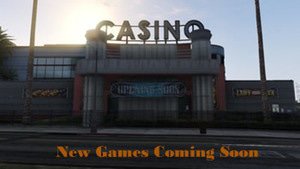 Get ready for a gambling expansion to the already massive world of Grand Theft Auto 5 and take your chances at getting rich without (necessarily) resorting to crime.
The upcoming downloadable content expansion for the smash hit GTA5 is set to include some of the most well known and loved casino games for online players who want to take a break from five star police chases, heists, and general mayhem that the game's series is well known for. Blackjack, roulette, poker, and video slot machines are set to be added by the 1.14 expansion, which is quite accurately called the High Roller Update.
There are also rumours going around about the inclusion of a lottery system since the game's files were leaked out onto the internet. Unfortunately, no further information about the mechanics of the lottery system though we can hope that part of the function isn't waiting in line behind heavy lottery and scratch card players as in real life. Prominent names on Twitter, such as Funmw2 who has been a frequent source of upcoming information on Rockstar's operations, added weight to this as he revealed the inclusion of the minigames in the files.
Additionally, there are ties to the gameplay mechanics that make the virtual casinos of San Andreas, the game's parody setting of Southern California, work that hint at a connection to the new heist mission type. The possibility of being able to conduct heists together with friends and strangers online has players ready to make their plans to break the banks of the forthcoming virtual casinos in more than one way.
Whether it's taking a dealer or a one armed bandit for all they're worth, sneaking into the money handling rooms to grab whatever happens to be available, or busting the vault open the old fashioned way, this update to Grand Theft Auto 5 Online will no doubt bring back wayward players who may have moved on to other games as well as reward those who stay loyal to the franchise.