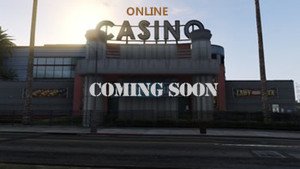 It's looking like there could be an online casino available in upcoming packs for Grand Theft Auto 5.
It's looking like a new GTA online casino could be coming in the future. No, we're not referring to the next Greater Toronto Online Casino. Rumors of a GTA online casino are referring to an upcoming release of the video game Grand Theft Auto that may include a multi-player online gambling element to it. This news comes after one player looked through the source code for a recent GTA 5 update to see that there is the foundation and structure for several gambling-based features already included.
Players of the series will know that casinos in the single player modes are old news and have been around since some of the earlier games in the franchise. However, what makes this so interesting to use is that these new additions are preparations for multi-player online gambling through the game. Though it's unlikely people will be able to wager real money at this point, it's very exciting that a casino and lottery system is in the works for one of the larger sandbox-style multi-player games online today.
For now, it's known that there are some casinos in the game that are not open to players. One of them even has a "Coming Soon" sign attached to it, and though this has often been used just to increase realism in previous versions of the games, it's been discovered that there are exits for the doors in the code, and that means that they are planning to actually use the building as a place for players to enter and exit a casino area in the future. Some players have even been able to exploit glitches in the game that allow them to get inside to see some furniture like couches and chairs, though there are no games available yet.
With the explosion of social gaming on casino-style games, it's not necessarily surprising to see the GTA franchise getting in on the action. Players will be able to place wagers with in-game currency, and accumulating this currency means a lot for what the players can and cannot access in terms of game content like weapons and other upgrades. While it may not be wagering real money just yet, it definitely has some real value to the players who will be enjoying the games.